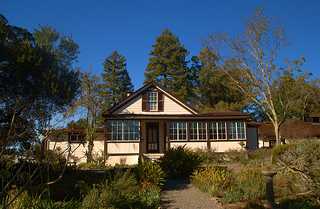 Nestled in the heart of Sonoma Valley, the tight-knit community of Glen Ellen will appeal to homebuyers seeking a small-town lifestyle surrounded by some of the Wine Country's most breathtaking natural scenery.
Located about seven miles north of the city of Sonoma just off state Route 12, Glen Ellen is small in both population and size: less than 800 residents and about 2.1 square miles. Most of Glen Ellen's restaurants and business are situated along Arnold Drive, the community's primary thoroughfare.
Eateries in the community's diminutive business district include Glen Ellen Star, Aventine Glen Ellen, Olive & Vine, The Glen Ellen Inn, and The Fig Café & Wine Bar. The community also has two small grocery stores and a post office but lacks any large businesses besides wineries.
Glen Ellen offers a number of nearby outdoor recreation areas where residents can soak in the region's scenic beauty and abundant sunshine, including Sonoma Valley Regional Park and the Bouverie Preserve. The latter is home to hundreds of species of birds, plants, and animals and puts on a stunning spring wildflower show.
Locals also enjoy Quarryhill Botanical Garden, a 25-acre oasis that features one of the largest collections of Asian plants in the world.
Southwest of Glen Ellen is Jack London State Historic Park, home to the author from 1905 until his death in 1916. London's wood-framed cottage still stands on the park's grounds, and visitors can tour the ruins of his winery, pig pens, and dream home, as well the author's final resting place. Through a partnership with local nonprofit Valley of the Moon Natural History Association, Transcendence Theater Company performs in the park's historic ruins throughout the summer.
Glen Ellen homes range from modest bungalows and cottages near the community's center to expansive, gated estates on its outskirts. Many larger homes also sit on multi-acre parcels, with commanding views of the Valley of the Moon and Sonoma Valley.
Because of its size, Glen Ellen has relatively few homes for sale compared with its neighboring city of Sonoma. From January through July of 2014, less than 25 single-family homes in the community have changed hands. Accordingly, individual single-family homes have sold for a wide range of prices in 2014, from $380,000 to $4.2 million.
(Photo: Flickr/Wayne Hsieh)