With the fall season fully upon us in the Bay Area, any landscaping projects that you haven't already started will have to wait until spring, right?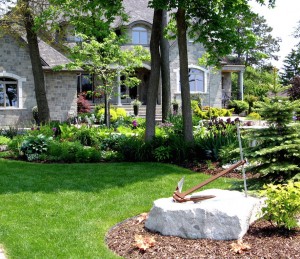 Wrong. Landscape professionals say that autumn is the perfect time to plant bulbs and prepare your yard for the coming spring and summer. And if you're thinking of selling your house in the coming months, you shouldn't wait until spring to make sure the yard is in tip-top shape.
In fact, researchers at Virginia Tech found that upgrading a home's landscape from "average" to "excellent" can raise its overall value by 10 to 12 percent.
A $150,000 home with no landscaping could fetch an additional $8,300 to $19,000 by adding a landscape with color and large plants, according to a report from the school's Department of Horticulture. And the bonus increases exponentially for higher-priced homes.
"The most preferred landscape included a sophisticated design with large deciduous, evergreen, and annual color plants and colored hardscape," according to the report. Adding different plant sizes to a front yard, for example, can boost curb appeal, as can mixing fruit trees and flowers for added color.
Design sophistication is the most important consideration, followed by plant size and diversity of plants.
"Survey results showed that relatively large landscape expenditures significantly increase perceived home value and will result in a higher selling price than homes with a minimal landscape," the report noted. "The resulting increase in 'curb appeal' of the property may also help differentiate a home in a subdivision where house styles are similar and thereby attract potential buyers into a home.
"This advantage is especially important in a competitive housing market," the report concluded — as if it had been written especially for Bay Area homebuyers and sellers.
Looking for more landscaping tips? Check out the website of the Professional Landcare Network, the national trade association for landscape professionals. It offers a full page of fall landscaping tips.
(Image: Flickr/Andrea_44)