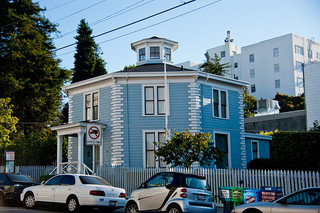 The upscale Cow Hollow neighborhood appeals to San Francisco homebuyers eager to live near a vibrant retail district and some of the city's best outdoor areas.
Tucked between the Marina and Pacific Heights, the comparatively small Cow Hollow is bordered by Lombard Street to the north, Van Ness Avenue to the east, Green Street to the south, and Lyon Street to the west. Formerly the site of a cow pasture, the neighborhood has become a premier shopping, dining, and entertainment destination.
Cow Hollow's principal retail district centers on bustling Union Street, home to more than 50 boutique shops, restaurants, and bars, as well as an annual June festival drawing upwards of 100,000 people.
Notable dining options in the neighborhood range from burgers – albeit high-end ones — at Umami Burger or Roam Artisan Burgers to fine French cuisine at ultraspendy Atelier Crenn. Those who want to cut loose after dinner might try the divey Mauna Loa Club, the stylish MatrixFillmore, or The Black Horse London Pub, a seven-seat establishment known as one of the smallest bars in the U.S.
WalkScore, an online service that ranks neighborhoods based on amenities within a quarter-mile distance, gives Cow Hollow a score of 95 of a possible 100 and calls it a "walker's paradise." Even so, public-transportation options are plentiful and frequent, with bus lines 41 Union and 45 Union/Stockton offering service to downtown every few minutes during peak weekday commute times.
Cow Hollow sits within a short walk of several of the city's most scenic and popular spots for outdoor recreation. Joggers and dog-walkers alike frequent Marina Green and Fort Mason, both of which offer outstanding views of the Golden Gate Bridge and Alcatraz Island. At the neighborhood's western boundary lies the Presidio, with miles of hiking and biking trails and numerous historic buildings.
Tiny Allyne Park, at the intersection of Gough and Green streets, offers residents the perfect place to quietly unwind after a long day. Next to the park stands the McElroy Octagon House, a unique structure on the National Register of Historic Places that's open to the public a few times per month.
San Francisco home shoppers hoping to own a piece of Cow Hollow will need to dig deep. Over the course of the past year, the median sales price for a single-family home in the neighborhood has ranged from $2.65 million to $7.03 million, according to MLS data. The median condominium price has also varied considerably in that time frame, from $670,000 in October 2013 to $2.26 million in April 2014.
And Cow Hollow real estate isn't just pricey — it's also hard to come by. In the first six months of 2014, only five single-family homes and 14 condominiums changed hands in the neighborhood.
(Image: Flickr/Meg Lauber)