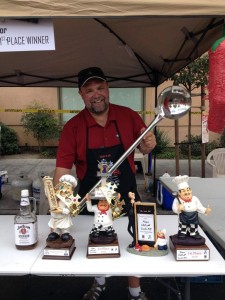 What do real estate and chili have in common?
For starters, plenty of different flavors, and opinions to match. One home, like one type of chili, might make a certain buyer swoon and have another running for the hills.
Then there's the wide range of ingredients. One real estate professional's secret sauce might be his encyclopedic knowledge of family-friendly hot spots, while another's could be her deep affinity for local sports teams.
But when it comes to Pacific Union International and chili, it's even simpler: Our primary shared value is excellence – for three years running.
For the third year in a row, our team scored a top prize in the Napa Chili Cook-Off. Chef David Bridges (pictured, right), a real estate professional in Pacific Union's Napa office, nabbed the People's Choice award with his sizzling concoction known as The Real Deal. (Want his secrets? Download his chili recipe here.)
The prize follows two straight years of finishing as the top Judge's Award and cements Pacific Union's dominance in the annual contest, which is a benefit for the Napa Food Bank.
"We couldn't be prouder to have David's incredible recipe recognized as the crowd favorite this year," said Linda Carroll, the branch executive in charge of Pacific Union's Napa region. "It's been great to finish at the head of the class for three years now, and even better to know it's all for a wonderful local cause."
Similarly, our company has also enjoyed a stellar three years of success. Officially founded in August 2009 when Marin-based Morgan Lane bought GMAC-owned Pacific Union, Pacific Union International has grown in a challenging real estate climate that's caused other companies to struggle. Some of our achievements:
Expanded from 17 offices to our current count of 22, including service to a brand-new region, South Lake Tahoe/Truckee
Joined forces with Christie's International Real Estate to expand our marketing footprint worldwide
Launched three joint ventures – Mortgage Services Professionals, ProInsurance, and Pacific Union Property Management – to support our clients' needs beyond the real estate transaction
Have seen several of our real estate professionals honored as some of the top 200 agents and teams in the country
Named one of the nation's top "Power Brokers" in 2012 and ranked 23rd in the United States in total sales volume
Ranked fifth among all U.S. residential brokerage firms in 2012 as measured by the productivity of our real estate professionals
We're proud of all we've achieved over the past three years. And like good chili, we plan to continue getting better with time.