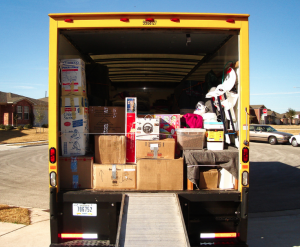 Moving your household belongings is difficult enough. Getting into a dispute with your moving company can be a headache on steroids.
Consumer watchdogs are seeing an increase in a particularly nasty type of scam in which moving companies give lowball estimates to customers, then inflate their fees once the truck is loaded, holding customers' possessions hostage until they pay more.
The scammers threaten to auction off the victims' belongings unless they come up with the extra cash.
Consumer Reports recently issued a warning after Massachusetts officials sued one moving company. The state of New Jersey sued two other movers for "grossly inflating fees" after trucks were loaded. The Better Business Bureau received more than 8,500 complaints about movers in 2012, making it one of the agency's most frequently heard gripes.
Consumer Reports suggests not relying on newspaper, phone-book, or online ads to obtain the names of movers. Instead, get recommendations from friends, family, or reliable real estate professionals. Request estimates from at least three companies.
Insist on receiving licensing information, and use a mover that has a marked truck and puts everything in writing, Consumer Reports warns. Avoid movers that require large upfront deposits, and check with your local Better Business Bureau for any complaints against companies.
In California, moving companies are regulated by the state Public Utilities Commission, which offers advice and an exhaustive mover's guide on its website.
The PUC also makes available a summary of recent investigations of moving companies. The latest update, which covers the first quarter of 2013, notes more than two dozen enforcement actions against companies that failed to get proper state licenses or engaged in fraudulent activities, including eight movers in the Bay Area. The California PUC said it helped consumers get refunds totaling more that $13,000 from moving companies.
Another excellent source of information for those preparing to hire movers is the U.S. Department of Transportation's Protect Your Move website, which is packed with good moving advice and includes a new section on "hostage loads." The agency notes that "complaints of household goods shipments held hostage are a priority."
It's also worth checking the website of the American Moving & Storage Association, an industry group that publishes a code of ethics for its members and professes to actively work to drive scammers and con artists out of business.
The bottom line: Get as much information as you can before you hire a mover. And if you feel that you've been scammed, immediately contact the PUC, the Better Business Bureau, and your local consumer-protection agency. If you feel a mover is illegally holding your possessions, call the police.
(Photo courtesy of Matthew W. Jackson, via Flickr.)