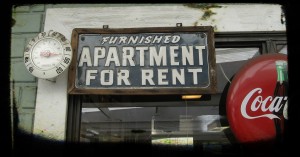 Anyone who has looked for an apartment in the Bay Area of late knows rents are sky-high and competition is stiff. But be wary of ads that seem too good to be true: As the market heats up, fraudulent listings continue popping up on popular rental sites, experts say.
"In the past three or so years, there have been reports of people using rental listing sites to post photos of other people's properties with below-market rental prices," Pacific Union President Patrick Barber said. "These listings lure would-be tenants to call and then send in deposit checks, and of course they never hear anything back again."
SCAMS CAN PROLIFERATE QUICKLY
Cameron Bamberger, a real estate professional in Pacific Union's San Francisco region, knows firsthand how quickly the scams can spread. In March she began receiving calls from prospective tenants about one of her listings – only problem was the property was for sale, not for rent.
A quick Google search revealed the unit was listed for rent on several websites including Trulia, Zillow, and Point2Homes.com, with Bamberger's proprietary images and another agent's name, she said.
"Tenants respond to these people and they say, 'Well, I'm out of town, send me some money, and I'll send the keys.' Of course it's a total fraud," Bamberger said. "These tenants from out of town walk by the property (after seeing the ads) and see my sign there.
The scammers "are stealing the photos from the (Multiple Listing Service)," Bamberger added. "It seems to be getting really, really bad."
Alex Bastian, a spokesman for the San Francisco District Attorney's Office, said the scams have grown common in the past few years and tend to come in waves.
The crime often originates from outside the U.S. but relies on a local middleman who collects the fraudulent payments, he said. Many times the local contact is also a victim of the scam and believes the payment is for an unrelated purpose, Bastian noted.
In some cases, the District Attorney's consumer fraud unit has recovered the money, Bastian said. However, local authorities often can't do much because the criminals reside outside their geographical jurisdiction.
"Our message is to be very wary of anyone who is asking for money to be wired for deposits and to call us if you have any questions," Bastian said. "The rents being the way they are, any type of fraud as it relates to a security deposit or first month's rent is a lot of money."
FRAUDULENT LISTINGS AFFECT HOME SELLERS TOO
Of course, sometimes the scams can cause problems for home sellers still living in the units as well.
Anthony Koutsos, a real estate professional at Brown & Co. Real Estate, said defrauded tenants showed up at one of his for-sale listings in Potrero Hill several years ago and demanded keys after paying a $3,000 deposit to scammers.
Eventually, Koutsos' client had to call police because the renters believed she was part of the fraud and refused to leave the property, he said.
Oddly, while the scam listing had used photos and an address from Koutsos' Potrero Hill Victorian property, the advertising copy came from a suburban-style complex in Monterey with a pool and air conditioning. And no matter how many times Koutsos flagged the listings as fraudulent, they kept popping up again, he said.
Indeed, because many rental websites host syndicated listings, the scam ads can spread quickly if they make it onto a feed, experts say.
"They steal the photos and the information, (and) once you get targeted you're screwed," Koutsos said.
RENTAL WEBSITES WORKING ON ISSUE
Trulia, Zillow, and Point2Homes.com say they have teams dedicated to detecting and removing fraudulent listings, as well as numerous warnings throughout the listing sections of their websites.
Zillow also requires landlords to verify new rental listings through a viable phone number, a company spokeswoman said. Meanwhile, Trulia is currently working on algorithms that would automatically remove fraudulent ads and score landlords and third-party sources on the overall quality of their listings.
And Point2Homes.com requires credit-card authentication for rental listings.
"That doesn't stop everyone because some people may have stolen credit cards," said Linda Moola, director of syndication for Point2.
Moola added that her company works with syndication partners to remove the fraudulent ads from multiple sites when scam reports come in.
But despite the industry's continual efforts, "some of these people are so extremely persistent and relentless that they'll really stop at nothing," she noted.
For her part, Bamberger said she hopes someday rental listings can come through a verified service like the MLS to reduce the possibility of fraud — particularly because they tend to proliferate so rapidly online.
"It's an industry-wide problem we've got here," Bamberger said. "When I posted about it on Facebook, many other agents responded saying, 'I'm having this problem too.'"
(Photo: Flickr/Turkeychik)