Both home prices and sales increased from January to February in every Bay Area county, says a new report, though inventory constraints continue to frustrate many would-be buyers.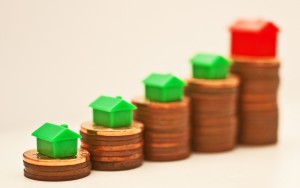 According to the California Association of Realtors' latest home sales and price report, the median sales price for a single-family home across the nine-county Bay Area was $740,270 in February, a month-over-month gain of 10.7 percent. On an annual basis, home prices grew by 9.9 percent, nearly twice the rate of appreciation recorded statewide.
Monthly home price increases in the Bay Area ranged from 2 percent in Contra Costa County to 36 percent in Napa County. Six local counties topped the ranks as California's most expensive places to purchase a home in February: San Mateo ($1,200,000), San Francisco ($1,154,670), Marin ($1,023,440), Santa Clara ($915,130), Contra Costa ($738,090), and Alameda ($697,160).
A limited supply of homes to choose from is one factor contributing to rising prices. In a statement accompany the report, CAR President Chris Kutzkey said that housing supply across the Bay Area was down by 10 percent from one year ago.
The report pegs February's months' supply of inventory (MSI) in the Bay Area at 3.2 – down from 3.3 in January — meaning that our local markets are still heavily tilted in favor of sellers. San Francisco County had the lowest MSI in the state, at 2.5, followed by Santa Clara (2.6) and San Mateo and Alameda (2.8) counties. According to CAR, an MSI of 6.0 to 7.0 is indicative of a market balanced evenly between buyers and sellers.
Tight inventory means that the Bay Area remains the only region in the state where the typical home seller could expect to pull in more than original price, an average of 104.2 percent in February.
After starting the year on a sluggish note, single-family home sales picked up in February, with the nine-county Bay Area recording an 11.6 percent gain from January. Sales volume was up in every local county from the previous month, ranging from 2.1 percent in Alameda County to 28.4 percent in San Francisco.
And speaking of San Francisco, the city and county now has the dubious distinction as the state's highest-priced real estate market per square foot, with the average buyer shelling out $754. In San Mateo County, which had formerly topped California for largest square-footage costs, buyers paid an average of $689 per square foot.
(Photo: Flickr/Andrew_Writer)