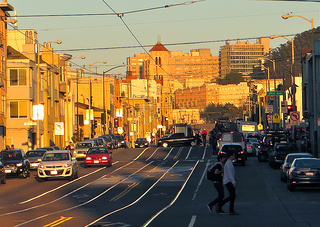 Anyone who has been shopping for a home in San Francisco recently will likely share a story involving brutal competition, multiple bids, and ultimately watching a property sell for more than its asking price.
According to Pacific Union's Q2 2014 real estate report, single-family homes in San Francisco sold for less than 100 percent of original price in just one month of the past year and went for as high as 113.5 percent of asking price in May. These overbids, in turn, drive prices even higher; June's $1.2 million median single-family home price was the highest recorded in San Francisco in the past year.
Frenzied competition for San Francisco real estate has prompted buyers to scour new areas of the city, according to Pacific Union President Patrick Barber.
"Multiple bids and low inventory has put pressure on buyers and driven them to expand their searches to new, more affordable neighborhoods," Barber says. "This demand is driving up prices."
To find out which specific neighborhoods San Francisco home sellers could expect to rake in the highest premiums, we examined second-quarter MLS data for single-family homes in all 88 of the city's subdistricts.
The data shows that homes in the Inner Sunset neighborhood, located in the western portion of San Francisco, commanded the most above original price in the second quarter: 126.5 percent. One three-bedroom home on desirable 6th Avenue sold for 69.4 above original price in April, the second highest premium recorded in San Francisco so far this year.
Perhaps not coincidentally, Inner Sunset home prices hit three-year highs in the second quarter, rising to $1.5 million.
And of course, residences in San Francisco's more centrally located enclaves are still fetching handsome overbids. Single-family homes in the Inner Mission and Bernal Heights neighborhoods, popular with affluent young tech workers, sold for more than 20 percent above asking price in the second quarter.
The chart below shows the 10 (11 to account for a tie) San Francisco subdistricts where sellers received the highest premiums in the most recent quarter. Buyers hoping to land a home in these neighborhoods should consider overbidding out of the gate and should certainly factor paying above list price into their budgets.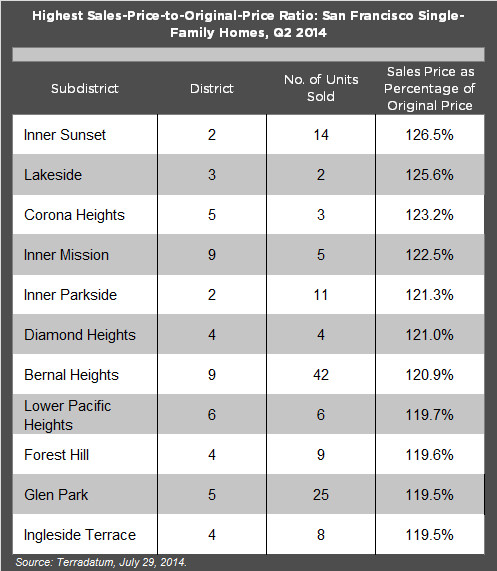 (Photo: Flickr/Torbakhopper)