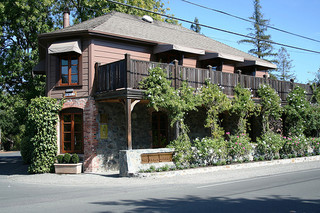 The small Wine Country community of Yountville is perhaps rightfully best known for its world-famous fine-dining scene, but that's not the only thing the laid-back Napa County town has going for it.
Located about nine miles north of the city of Napa on state Route 29, Yountville is home to about 3,000 people – less than 2 percent of the county's population – and covers just 1.5 square miles. The central business district along Washington Street has a small-town vibe that suits Yountville's modest size and is a destination for food enthusiasts from around the globe.
Yountville's most prominent culinary institution is undoubtedly The French Laundry, which has earned three Michelin stars – the company's highest rating – multiple years running. The brainchild of world-renowned chef Thomas Keller, The French Laundry offers two unique prix-fixe tasting menus per evening and was named one of the 50 best restaurants in the world by Restaurant Magazine in 2014.
Just a few blocks down Washington Street are two other Keller-operated restaurants: Bouchon Bistro, which earned one Michelin star in 2015, and Ad Hoc, which changes its four-course menu on a daily basis. Additionally, Michelin awarded two other Yountville eateries – Bistro Jeanty and Redd Wood – with Bib Gourmand status.
Central Yountville is also home to a variety of boutique shops and art galleries, including those at V Marketplace, as well as several tasting rooms and luxury spas. Although the town does have a small market, it lacks a major supermarket or other chain stores, adding to the low-key vibe that residents embrace.
The compact commercial strip quickly gives way to the spectacular Napa Valley countryside, with rolling hillsides and rows of grapevines in every direction. Yountville residents can soak in the scenery and frequent sunny days by exploring the dozens of wineries in close proximity to the town's center while getting their cultural fill at night at performing-arts venue Arts Center at Lincoln Theater.
Homes in Yountville range from modest bungalows built in the middle of the 20th century to contemporary Craftsman-style houses constructed less than a decade ago. Because of the town's diminutive geographic footprint, few properties change hands in any given year. According to MLS data, there were just 23 single-family home sales from January to November of 2014, and three months saw no closed transactions.
Generally speaking, homes in Yountville tend to be more expensive than the Napa County average. From January to November, the average median sales price for a single-family home in the town was $884,000 compared with the $548,000 recorded countywide over that same time frame.
(Photo: Flickr/Peter Bond)