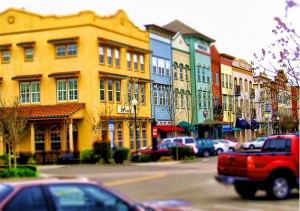 In the Sonoma County town of Windsor, community life centers on the Town Green.
The 4.5-acre park in the middle of town is home to a farmers market, free outdoor concerts, holiday celebrations, and summertime movie nights. It holds a children's play area, band shelter, fountain, and a stand of oak trees more than 200 years old.
The Town Green is a civic treasure that helps explain Windsor's reputation as a family-friendly small town with an outsized sense of community.
Windsor, located along Highway 101 north of Santa Rosa, traces its history back 150 years. Housing development blossomed in the 1980s and 1990s, and today the town's 27,000 residents enjoy amenities missing in many larger cities, including numerous walking and hiking trails, horseback riding, and other outdoor activities. Foothill Regional Park is within the town limits, and Shiloh Ranch Regional Park and the Russian River are nearby.
The Sonoma County airport is also close, and Santa Rosa is a 10-minute drive. Many wineries are located in the area, and Windsor proudly calls itself the gateway to the Wine Country.
Windsor's thriving business district surrounds the Town Green, with a unique commercial and residential development called Town Green Village.
The Village covers 14 acres with three-story, mixed-use buildings bearing facades that look like they were built a century earlier. Retail stores, restaurants, and professional offices occupy first-floor storefronts, with two-story condominiums above.
Condos in Town Green Village sell for $300,000 to $450,000. The median sales price in Windsor is $375,000, with homes ranging from $150,000 condos to $4 million Wine Country estates.
The demand for homes far exceeds the current supply, and multiple bids are common, according to one of Pacific Union's top real estate professionals in the area. Homes sell quickly, often going into escrow after just a week to 10 days on the market
Four-bedroom, three-bath homes measuring around 2,100 square feet and selling for $450,000 to $525,000 are typical in Windsor today, our real estate professional said, and the town attracts buyers of all sorts: young parents looking for a a nice community in which to raise their children, investors seeking to take advantage of a strong renters' market, relocating business executives, older couples looking to downsize from country homes, and senior citizens in search of a safe community with plenty of activities available.
"Windsor is a family-friendly community, and there's a lot to do here," our real estate professional said. "No wonder it's popular."
(Photo courtesy of Hellvet2000, via Flickr.)