Team –
Since March 2020, we have lived in anticipation of resolution of several variables that impact our personal and business lives. I have described them many times on our Path Forward presentations – all are posted to Where We Are Now.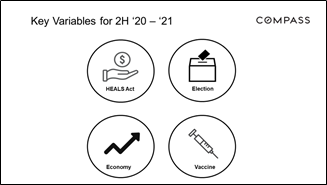 The greatest possible liberty we enjoy in life is our right to vote. Over 145 million Americans voted in 2020 – a record by millions. The election of the highest office in our land, POTUS, has now been concluded. President-elect Biden and Vice President-elect Harris will now prepare to lead our country.
Wednesday, November 11 is Veteran's Day. A day to pause and recognize the liberty we enjoy as the "right to vote." In a large part, this right is provided to us by the selfless, sometimes heroic, acts of our Veterans. Please pause in a special place on Wednesday and somehow remember and thank our veterans. For those of you that served and now serve our country, we thank you.
Betting against America rarely reaps rewards. We all now enjoy the responsibility as US citizens to embrace change and pursue opportunity. We are innovative, passionate, focused, and peaceful people. Standing together we are very powerful.
We now have one of four variables above solved. We need to celebrate, to embrace and use the results as our launching pad for our dreams of 2021.
Embrace our new path. Reach across the street (isle). Walk with your neighbors and celebrate America!
I am very proud that our team pursued individual passions but did not politically engage each other. We all respect each other's views. And now we have one view. The view of Americans.
We have experienced changes in POTUS before and we will again. Our equity markets, government branches, states, and local governments will all adjust and ultimately again thrive.
Thanks again to our veterans. Thank you for voting. Opportunity awaits!
This is Where We Are Now.
Thanks!
Mark
Mark A McLaughlin