Fifty-three percent of respondents to a recent survey said that 10 percent is the ideal down payment size.
Nationwide, the average down payment was 7.3 percent in the second quarter.
Homebuyers in San Jose and San Francisco made down payments of more than 20 percent, the highest in the country.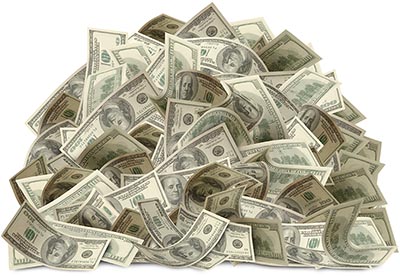 More than half of American homebuyers would prefer to put down less than 20 percent, although they should understand the implications of doing so when devising a savings plan.
American Financing's Mortgages in America Survey found that 53 percent of Americans across all generations said that 10 percent was the ideal down payment. One in five would opt for a 20 percent down payment, while 14 percent would make a 15 percent down payment.
However, potential homebuyers who are considering speeding up the process with a smaller down payment should consider the cost of private mortgage insurance. American Financing says that lenders charge higher private mortgage insurance premiums to borrowers who malke smaller down payments, meaning that those who put down 10 percent may actually incur higher expenses in the long run.
Still, with today's high home prices, most buyers are getting away with smaller down payments. A recent report from ATTOM Data Solutions found that the average down payment in the second quarter was 7.3 percent of the median sales price, which was actually the highest in almost three years.
But here in the Bay Area, prospective homebuyers may need to put down 20 percent or more just to compete. ATTOM Data Solutions says that San Jose and San Francisco homebuyers made respective down payments of 25.2 percent and 22.3 percent in the second quarter, the most in the country.
Bay Area homebuyers are also competing with those who can afford to pay all cash. According to an analysis by Pacific Union Chief Economist Selma Hepp the share of all-cash buyers in the Bay Area ranges from 26 percent for homes priced below $1 million to 46 percent for homes priced above $3 million.
Still, not all buyers are flush with cash, and American Financing offers some tips for amassing a down payment, including creating a detailed savings plan, researching homebuyer assistance programs, and using gift money. And a recent blog post from the National Association of Realtors shows how making some relatively simple sacrifices, like skipping that morning latte and bringing lunch to work, can add up when saving for a down payment.
(Photo: iStock/pixhook)