Two separate polls found that more than 70 percent of Americans think that now is a good time to buy a home.
Sixty-four percent of homeowners think that prices have risen over the past year, and more than half expect price appreciation into next spring.
Millennials are willing to make extra effort to close a home purchase, including putting down more earnest money, writing letters to sellers, and paying premiums.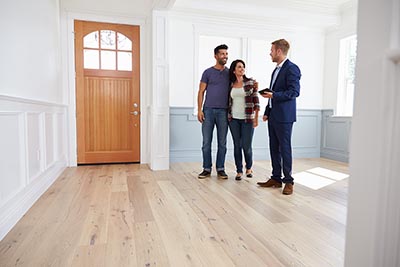 Although inventory conditions remain challenging across the Bay Area and the U.S., potential homebuyers are optimistic about the housing market, thanks to a strong economy, low mortgage rates, and the prospect of further home price appreciation.
That's according to the National Association of Realtors' latest Home Ownership and Market Experience survey, which found that 77 percent of Americans believe that now is a good time to buy a home. A separate poll from Berkshire Hathaway HomeServices produced similar results, with 71 percent of those surveyed saying that the time is right to invest in real estate.
An almost identical number of consumers — 72 percent — told Berkshire Hathaway that they were optimistic about the housing market in general, with 44 percent pointing to price appreciation as a primary reason. NAR found that 64 percent of Americans think that home prices have increased in the past year, and 53 percent believe that they will continue to rise in the coming six months.
Low mortgage rates are also buoying homebuyer confidence, cited by 51 percent of respondents to Berkshire Hathaway's poll. Thirty-year, fixed-rate mortgages averaged 3.83 percent for the week ended Sept. 28, according to Freddie Mac data, unchanged from the previous week.
"Historically low mortgage rates continue making homeownership achievable for many Americans," company President Gino Blefari said. "We believe mortgage rates will remain within a range of current low levels for the foreseeable future."
And homebuyers are also feeling good about the state of the U.S. economy. Fifty-seven percent of respondents to NAR's HOME survey believe that the economy is improving, up from the second quarter but down from the first quarter.
In spite of Americans' sunny outlook on the real estate market, the nation's inventory drought and rising prices both continue to pose challenges, particularly for millennials. According to NAR's Confidence Index Survey, first-time buyers accounted 31 percent of transactions in August.
"Market conditions continue to be stressful and challenging for both prospective first-time buyers and homeowners looking to trade up," said NAR Chief Economist Lawrence Yun. "The ongoing rise in home prices is straining the budgets of some of these would-be buyers, and what is available for sale is moving off the market quickly because supply remains minimal in the lower- and mid-price ranges."
Millennials are aware of the obstacles to homeownership, and they are taking steps to make themselves more competitive. Fifty-eight percent of younger homebuyers told Berkshire Hathaway that they would put down more earnest money to secure a home, 36 percent would write a personal letter to the seller, and 31 percent are willing to pay a premium.
(Photo: iStock/monkeybusinessimages)