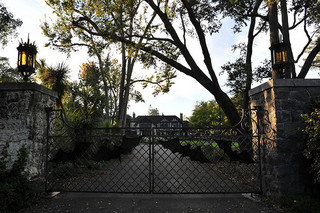 Even in a town that claims the priciest ZIP code in America, West Atherton stands out as perhaps the most elite and prestigious neighborhood for top-end homebuyers in Silicon Valley and Northern California.
Historically, West Atherton has always been the most expensive neighborhood in a town that has come to define the meaning of the word "luxury" in the U.S. real estate market. Imposing mansions, gated estates, and acre-plus lots are the norm here, and they help attract some of the most affluent buyers from around the Bay Area — and the globe.
Current and past West Atherton residents include Facebook COO Sheryl Sandberg, former Yahoo CEO Carol Bartz, Oracle co-president Mark Hurd, and San Francisco 49ers great Jerry Rice.
Atherton was originally a summer retreat for wealthy San Franciscans seeking to escape the city's notorious fog, according to one of Pacific Union's top Silicon Valley real estate professionals. And while West Atherton still attracts old money, those homebuyers must now compete with tech-industry magnates and superwealthy international buyers to score a property in this elite enclave.
West Atherton is roughly bordered by El Camino Real to the east, Valparaiso Avenue to the south, Alameda de las Pulgas to the west, and Stockbridge Avenue and Selby Lane to the north. The neighborhood is nearly equidistant from Highway 101 to the east and Interstate 280 to the west.
Although West Atherton itself is exclusively residential, it's a short drive from Menlo Park's main commercial district, centered on Santa Cruz Avenue, as well as the Stanford Shopping Center, which features close to 150 shops and restaurants.
Homes aren't the only area in which West Atherton can claim prestige. The neighborhood is home to several of the region's top private schools, including Menlo School and Sacred Heart School. And in 2013 the highly rated public Las Lomitas Elementary School earned a 943 of a possible 1,000 on the state's Academic Performance Index.
West Atherton's tree-lined streets lack sidewalks, meaning the neighborhood gets little in the way of foot traffic. Adding to the feel of seclusion and privacy is the fact that many homes aren't visible from the street, screened by bushes or fences — and sometimes both.
As one would expect, the barrier to entry in such a posh neighborhood is extremely high; home sales in excess of $10 million have been commonplace over the past year, according to our real estate professional. Properties priced below that, in the $7- to $9-million range are "going like hotcakes and are likely to be torn down and rebuilt," she says.
Still, the neighborhood's exorbitant prices aren't deterring deep-pocketed buyers. Recently, a home on Atherton Avenue sold for $20 million without ever hitting the MLS. And in the past six months, one West Atherton property listed at more than $30 million sold in just a week.
(Image: Flickr/Jared Greeno)