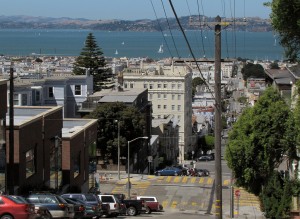 One of San Francisco's most famous neighborhoods, Pacific Heights boasts stunning views, elegant homes, and a respite from the bustle of urban living.
"Pacific Heights is what everybody thinks of when they think of San Francisco high-end real estate," said Patrick Barber, president of Pacific Union's San Francisco region. "You've got unbelievable views of San Francisco Bay, close proximity to some of the best neighborhood shopping with Union, Fillmore, and Chestnut streets, and larger homes than in any other part of San Francisco."
The neighborhood, which has made frequent appearances in books and movies including the 1990 thriller "Pacific Heights," is also home to some of San Francisco's top private schools. San Francisco University High School, the Drew School, Town School for Boys, the Hamlin School, and Stuart Hall & Convent of the Sacred Heart are all located in Pacific Heights.
Shopping and restaurants abound on and around Fillmore Street including SPQR Italian restaurant, Pizzeria Delfina, the Grove, Ralph Lauren, and many thrift and consignment stores. Ella's at Presidio Avenue and California Street remains a popular brunch spot.
Other nearby shopping includes the boutiques of Sacramento Street, Laurel Village Shopping Center, and Union and Chestnut streets. The neighborhood also provides easy access to nightlife and entertainment at Yoshi's Jazz Club, the Clay Theatre on Fillmore, the Vogue Theatre on Sacramento, and the Sundance Kabuki Cinemas in Japantown.
Pacific Heights boasts two parks with spectacular views. Alta Plaza Park, perched atop a hill at Jackson and Scott streets, has tennis courts, a playground, walking paths, and a dog area.
Lafayette Park at Laguna and Sacramento streets offers similar amenities. The park is currently undergoing a substantial renovation, although a single neighbor has delayed the project with an appeal.
The Lyon Street stairs reach their peak at Lyon and Broadway streets and offer gorgeous views of the Palace of Fine Arts, San Francisco Bay, and the Marina district.
The Gold Coast, a section of high-end homes along Broadway, is perhaps Pacific Heights' best-known stretch and a frequent stop for tour buses. Apple executive Jonathan Ive recently made headlines when he bought a $17 million home on the street.
Other sought-after spots include the 2500 block of Green Street, the 2900 and 3100 blocks of Pacific Avenue, and large portions of Washington, Clay, and Vallejo streets. Buyers often search for double lots and north-facing homes with south-facing gardens, our agents say.
In July the median price for a single-family home sold in Pacific Heights increased 112 percent to $9.5 million from $4.5 million during the same month in 2011, according to MLS data.
As in other parts of the city and Bay Area, the number of homes for sale has been shrinking while demand rises. In July the number of single-family homes for sale in Pacific Heights dropped 26 percent, while the number of homes sold increased 33 percent over the year-earlier period.
"Everyone was so reluctant to buy last year and of course this year on January 1, it's like a light switch went off," Barber said.
One of our Pacific Heights agents recently sold a "fixer-upper" for $2 million over its $5.4 million asking price after six buyers bid on the property. The agent predicted that the new owners would completely redo the house, a common practice with older homes in the neighborhood.
"There's so little inventory that buyers aren't afraid of overpaying," she said. "They want a house, and they can afford to buy it. They want a particular lot with a particular view."
(Photo of Pacific Heights courtesy of Judy H, via Flickr.)