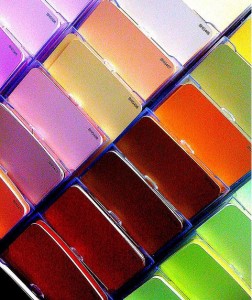 Looking to add a bit of pizazz to your home without all the trouble (and expense) of a full-on remodeling effort? Buy a gallon of paint.
Painting a wall, or a whole room, adds a fresh perspective at little cost. And color choices can affect your mood, helping you perk up or calm down. To help you get started, check out the Color Guide and Color Theory 101 sections on the HGTV website.
Websites of paint retailers and home designers offer valuable advice, too, but the variety of topics on the HGTV site makes it a good spot for in-depth exploration. (Its Painting Guide section has a wealth of useful tips and techniques.)
What colors should you avoid for interior walls? A bright, bold yellow, for one.
Yellow can be attractive in small doses, but a recent article on the National Association of Realtors website advised that on large surfaces it can be fatiguing.
"Yellow is an eye irritant," according to a color theory webpage linked from the NAR article. "Babies cry more in yellow rooms, husbands and wives fight more in yellow kitchens, and opera singers throw more tantrums in yellow dressing rooms."
The Homesessive site, meanwhile, warns that current trends in home decorating will soon appear dated, including the gray and beige combination known as "greige" and other hip-du-jour choices such as chocolate brown and blue, and a trifecta of red, gold, and green.
A recent survey commissioned by the paint retailer Sherwin-Williams found that 74 of homeowners want to add splashes of color to their living spaces, with 29 percent looking to brighten their living room or family room first, followed by the bedroom (19 percent) and the kitchen (10 percent).
Neutral colors remain the most popular, Sherwin-Williams said, but bright colors are increasingly favored for social areas.
(Photo courtesy of Tim Solley, via Flickr.)