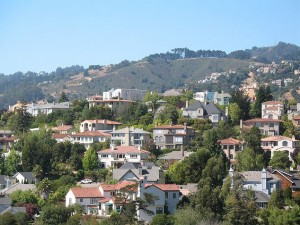 Here's a look at recent news of interest to homebuyers, home sellers, and the home-curious:
HOME SALES HELD BACK
Bay Area home sales trailed last year's pace for the second month in a row in March, held back by a continued shortage of homes for sale.
A total of 7,263 homes sold in the nine-county Bay Area last month, down 6 percent from a year earlier, according to real estate research firm DataQuick. The median sales price was $436,000, up 21.8 percent from last year.
The median has risen on a year-over-year basis for 12 straight months, with increases above 20 percent for the past five months. Sill, last month's median was 34.4 percent lower than the $665,000 peak in June and July of 2007. In March 2009 the median hit its post-peak low of $290,000.
"Higher sales in the middle and top of the housing market reflect improved consumer confidence, ultra-low mortgage rates and the unleashing of more pent-up demand than many anticipated," DataQuick President John Walsh said. "There's been a shift in psychology, where more people worry prices will rise and fewer fear a decline. It's drawn a lot of folks off the fence following a long stretch of sub-par sales, especially in the higher price ranges."
In a separate report, DataQuick said home sales across California rose just 0.8 percent in March from a year earlier, while the median price jumped nearly 25 percent.
---
HOUSING HELPS BOOST U.S. ECONOMY
Rising home prices and the rebounding housing industry will help spur U.S. economic growth throughout 2013, according to a monthly report from Fannie Mae.
"While overall economic reports signal some moderation in economic activity heading into the current quarter, the continued housing recovery and rising home prices will provide a cushion to growth this year and present the most likely source of upside to our forecast," the mortgage company said in its April report.
Existing-home prices are expected to rise 5 percent this year and nearly 4 percent in 2014, but a tight supply of available homes will hold back sales growth, Fannie Mae said. Home sales, up 9 percent last year, will likely grow 7 percent in 2013 and 5.5 percent next year, down from earlier projections of 10.5 and 5.5 percent growth, respectively.
---
CREDIT REQUIREMENTS MAY BE EASING
A mortgage report released last week suggests lenders may be gradually easing up on loan requirements, in a hopeful sign for borrowers.
FICO credit scores for mortgages approved in March averaged 743, down from 745 in February and 749 in January, according to mortgage software company Ellie Mae. It was the lowest FICO score for approved mortgages since Ellie Mae began tracking them in August 2011.
Mortgage applications that were denied in March had an average FICO score of 702.
---
HOUSING STARTS CLIMB HIGHER
U.S. homebuilders started construction on 1,036 new homes in March, up 7 percent from February and 47 percent from a year earlier, according to the U.S. Census Bureau — the fastest pace since June 2008.
In Western states, construction starts were up 54 percent from a year ago.
(Photo courtesy of Rbotman01, via Flickr.)