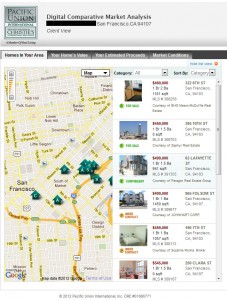 What's better than a well-researched comparative market analysis? One that never gets outdated.
Welcome to the world of the dynamic comparative market analysis, or DCMA for short — sometimes also called a digital comparative market analysis. Pacific Union is pioneering its use and finding that clients are thrilled with the immediacy, control, and insight the DCMA offers.
The DCMA is a digitally generated companion to a traditional comparative market analysis created by a PUI real estate professional. This powerful tool, which allows a client to keep tabs on the most current market activity around his home, is housed on a dedicated web space and is updated automatically every night by the MLS.
Four tabs allow clients to view homes in the area; their own home's value; their estimated proceeds; and market conditions. The "Homes in Your Area" tab can be customized to show just a map with icons, or a listing of property details alongside the map that includes addresses, bedrooms and bathrooms, square footage, and list prices. A client can click on any of those properties to get full information.
The DCMA automatically calculates a market-value range for a client home based on the price-per-square-foot of comparable properties. For the client, it's easy to fine-tune the analysis — it's a matter of a simple click to remove a comparable property from the mix. So if you don't think that fixer-upper down the road is a fair comparison to your home, you don't need to factor it into the valuation.
"It's incredibly helpful if someone is starting to think about selling or refinancing, or needs to check data for a property tax reassessment request," says a Pacific Union branch executive. "It's an easy way to watch value change right in front of your eyes."
Want to learn more — or get a DCMA of your own? Contact your neighborhood Pacific Union International office or find a Pacific Union agent.