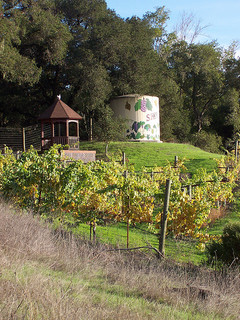 High-end Sonoma County buyers who value large homes and lots, stunning vistas, and privacy all within a short drive of downtown Santa Rosa would do well to check out the Shiloh neighborhood.
Tucked away near northeastern Santa Rosa and the Windsor border, the exclusively residential neighborhood offers a peaceful, semirural feel despite its plum location just 3 miles to the west of Highway 101. The planned community begins at the first security gate after you cross Faught Road on Shiloh Road heading east.
First developed in the 1980s, Shiloh received most of its funding from late "Peanuts" creator and longtime Sonoma County resident Charles Schulz. The community is nearly 2,000 acres in size, and individual lots start at two acres. Some of the larger lots even have designations that allow for equestrian uses and vineyards, according to one of Pacific Union's top real estate professionals in the region.
It's not uncommon for neighborhood residents to enjoy views of the rolling Sonoma County hills from their homes, but as our real estate professional says, "many have extraordinary ones." Adding to the aesthetic appeal is the fact that power lines in Shiloh are largely underground.
The neighborhood lies adjacent to Shiloh Ranch Regional Park, an 850-acre open space that offers trails for hikers, mountain bikers, and horseback riders. Other Shiloh residents enjoy outdoor recreation in a more opulent but no less beautiful setting: the private Mayacama country club.
Designed by legendary golfer Jack Nicklaus, Mayacama's golf course is the resort's centerpiece and recently made GolfDigest's list of the top 100 courses in the U.S. And because Mayacama prohibits golf carts, the greens remain immaculately manicured. The club also offers swimming and tennis centers, a spa and gym, and an extensive wine cellar with cigar-storage lockers.
Shiloh homes for sale are generally much larger than those in surrounding neighborhoods, ranging from 3,000 to 10,000 square feet. Architectural styles in the community run the gamut, from contemporary to Tudor to Tuscan to Mediterranean.
As you might expect, home prices in the Shiloh development tend to run higher than the Sonoma County average. Buyers in the community can expect to pay anywhere between $2.5 million and $10 million, our real estate professional says, with most homes falling between the $3 million and $6 million price points.
(Image: Flickr/Northbaywanderer)