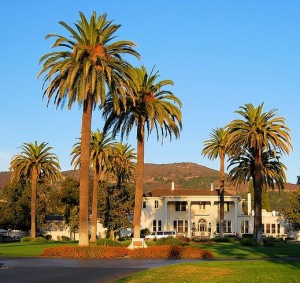 A thriving residential community is hiding in plain sight at Napa's prestigious Silverado Resort and Spa.
Silverado is known for its two championship golf courses, its relaxing spa, and its manicured grounds in the heart of the Napa Valley. But hundreds of residents call it home, too, in a dozen neighborhoods across the resort property.
The resort includes more than 500 condominiums — split between full-time residents and those who keep second homes and rental units there – plus several hundred single-family homes.
Residents are not required to keep a Silverado membership with access to the golf courses and other amenities, but most are members. New residents pay a $40,000 transfer fee for membership.
Most of the residents today are grown, although children are welcome at Silverado and the resort hosts a variety of activities for young people throughout the year.
SILVERADO ONCE 'LA VERGNE'
Silverado's modern history dates to 1955, when the semiprivate Silverado Golf Course opened. Before that, the property had been a private estate named La Vergne, first owned by a Union general in the Civil War, John F. Miller, who built a mansion there in 1870.
The landmark mansion still stands, although today it's home to the resort's registration desk, as well as two restaurants, a lounge, and several meeting rooms. Outside,  an expansive deck overlooks the 18th green of the South Golf Course.
Silverado refashioned itself as a high-end country club and resort in 1966, when residential development began. Development has continued ever since, and today the resort boasts 13 tennis courts and 10 swimming pools in addition to the two golf courses, the spa, and a recently expanded conference center.
WIDE RANGE OF HOMES, PRICES
The mix of condos and single-family homes at Silverado is matched by a wide range of home prices. Condos have been selling recently from $200,000 to $1.5 million, while single-family homes sell for $600,000 to $5.5 million.
Real estate activity at Silverado has been "very active lately" after several slow years during the recession, according to Linda Carroll, branch executive for Pacific Union International's Napa County region.
With home prices still below their peak in 2005 and 2006, "there's been a real resurgence of interest among buyers looking to move into Silverado and also investors who are paying cash for bargain rental properties."
(Silverado photo courtesy of Kochtopf, via Flickr.)