Nestled in the extreme southeastern corner of Marin County and within a stone's throw of the Golden Gate Bridge, the serene waterfront town of Sausalito quickly makes you forget that you're only 10 miles north of San Francisco's bustling Financial District. With the city's skyline a constant, looming presence (and making for incredible photo ops), Sausalito boasts ultra-close proximity to an urban environment yet quick access to all of Marin County's outdoor pleasures.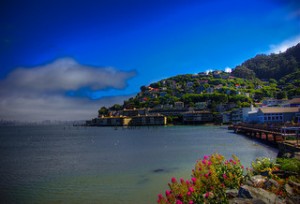 Founded in 1775, Sausalito — roughly meaning "little willow" in Spanish — had a long history as a transportation hub before transforming into the desirable bedroom community of 7,000 residents that it is today.
Thanks to the city's location just off Highway 101 and three miles north of the Golden Gate Bridge, Sausalito residents enjoy a short drive into San Francisco. If you prefer to take public transportation, Golden Gate Transit bus line 10 will whisk you to the city's center in about half an hour. And if you have the time to spare, kick back and enjoy the scenic ferry ride across San Francisco Bay, which offers incredible vistas of Alcatraz Island and Angel Island.
Bridgeway, Sausalito's walkable main street, is where you'll find many of the city's restaurants and shops. Eateries range from high-end establishments, such as Salito's Crab House and Prime Rib, to the reasonably priced Avatar's restaurant, a Marin County institution that serves up Indian-Mexican fusion cuisine.
The San Francisco skyline isn't the only giant towering above Sausalito. Mount Tamalpais, located just 15 miles to the north, offers outdoor enthusiasts an intricate network of hiking and biking trails. Cyclists can also follow bike trails to the Marin Headlands, where they'll enjoy iconic views of the entire Bay Area while logging in a good workout.
If you're more of a beach person, follow Highway 1 for about half an hour until you reach Stinson Beach, a popular stretch of coast located within the Golden Gate National Recreation Area. Muir Woods, home to a grove of ancient coastal redwood trees, also lies within a short drive of Sausalito.
Most Sausalito homes for sale are perched in the hills above the city, overlooking Richardson Bay. In June the median prices of Sausalito homes reached $1.47 million, up 9 percent from a year ago, according to MLS data. Inventory in Sausalito is slightly more scarce than in the rest of Marin County; in June 75 percent of houses on the market were either sold or under contract, compared with 68 percent countywide. Median home prices in Sausalito are currently roughly 30 percent higher than they are in the rest of Marin.
"(Sausalito) has enough restaurants to please 10 times (its population) and enough natural beauty for much more than that," user NightOwlInOrinda said on Pacific Union's Sausalito reviews page. "It is the place where Bay Area residents go to get away from the urban living and enjoy a sophisticated little bucolic (village)."
(Image courtesy of Bryce Edwards, via Flickr.)