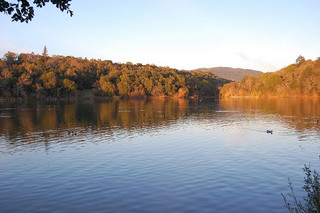 Sonoma County homebuyers seeking privacy and a rural setting just minutes from all areas of Santa Rosa should put the prestigious Montecito Heights neighborhood on their list of spots to explore.
Situated in north central Santa Rosa adjacent to the Fountaingrove and Brush Creek neighborhoods, Montecito Heights offers "amazing views" overlooking the city, according to one of Pacific Union's top Sonoma County real estate professionals. Because of its heavily wooded environs, the neighborhood retains a countrylike atmosphere despite its location less than four miles from downtown Santa Rosa.
But residents needn't travel that far for basic necessities. Located at the foot of the neighborhood, the Flamingo One Stop Shopping Center houses a grocery store, Starbucks, several banks, and a pharmacy.
Adjacent to the shopping center is the Montecito Heights Health and Racquet Club, which offers members two swimming pools, five tennis courts, cardio and weight rooms, and a spa. Those seeking to unwind after a workout can hit the Flamingo Conference Resort and Spa, which is located in the same complex and boasts a restaurant, a bar, and a live-music venue.
And if you prefer to get your exercise in a more natural setting while soaking in the abundant Sonoma County sunshine, there are many local options from which to choose. Outdoor recreation spots in close proximity to the neighborhood include Howarth Park, Spring Lake Regional Park, and Annadel State Park.
Though many empty-nesters call the neighborhood home, Montecito Heights' location in an excellent school district also attracts families.
Madrone Elementary School, which serves the neighborhood, earned a 2013 score of 844 out of a possible 1,000 on the state's Academic Performance Index, while Rincon Valley Middle School notched an 893. And our real estate professional says many Santa Rosa residents consider Maria Carrillo to be one of the best high schools in the city and county.
Besides its stunning vistas and central location, the neighborhood's large lots, quiet streets, and custom-built homes also score it big points with Santa Rosa buyers, our real estate professional says.
But home shoppers hoping to get a piece of such a high-end neighborhood will need to dig deep. Over the past six months, Montecito Heights single-family homes have sold for an average of just less than $1 million, according to MLS data.
(Image: Flickr/Ren Norman)