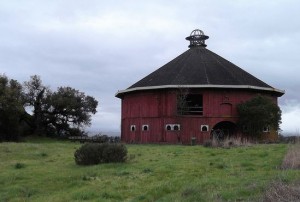 Fountaingrove is a diverse and thriving neighborhood on the northeast side of Santa Rosa.
It is home to some of the city's biggest employers, as well as a bounty of small, neighborhood retailers. While just a short drive from downtown Santa Rosa, Fountaingrove remains cloaked in the greenery and scenery of the nearby Mayacamas Mountains. Residents there have a choice of everything from starter homes and condominiums to luxurious planned communities and million-dollar estates.
And Fountaingrove has a history unlike anywhere else in California.
The neighborhood gets its name from Thomas Lake Harris, who bought some 1,500 acres of land and established a utopian community there in the mid-1870s. The sect built a successful wine-making operation, producing an estimated 70,000 gallons of wine, which it sold across the United States and Europe before its last members disbanded in the 1930s.
A large round barn, painted red, once stabled horses used in the wine-making operation and still stands today as a local landmark. Harris' name survives, too, on a local road and open space.
Fountaingrove – also frequently spelled as two words, Fountain Grove – got its start as a residential community in the early 1980s, and home construction continues today.
The neighborhood encompasses close to 1,500 homes – with condos selling for $275,000 to $400,000, single-family homes selling for $500,000 to $700,000, and high-end properties selling for $1 million or more.
According to MLS data, 99 homes sold in Fountaingrove in the past 12 months at an average selling price of $712,341. The homes had an average of 3,390 square feet of space, with four bedrooms and three-and-a-half bathrooms.
Currently, 16 homes are for sale with another 12 already in escrow.
Among the new developments under way in Fountaingrove is a one-of-a-kind community for lesbian, gay, and transgender retirees. Called Fountaingrove Lodge, the development will include 109 high-end housing units plus a long-term care facility. It is scheduled to open by the end of 2013.
"Fountaingrove is a very desirable area," according to one of Pacific Union International's top real estate professionals in Sonoma County.
"There's a lot of business executives relocating there, and local residents, too, who are drawn to the consistency of the area," he said. "They see minivans, Mercedes, and Miatas in Fountaingrove's garages, and they think to themselves 'That looks like my garage.' "
Major employers in Fountaingrove include the vascular division of Medtronic Inc., the world's largest medical technology company, with 800 workers, and Agilent Technologies, which develops measurement and testing equipment, with 1,100 workers.
No schools are located in Fountaingrove, but two public high schools are nearby – Santa Rosa High and Maria Carrillo High – plus the private Cardinal Newman High School.
(Fountaingrove barn photo is courtesy of Brewbooks, via Flickr.)