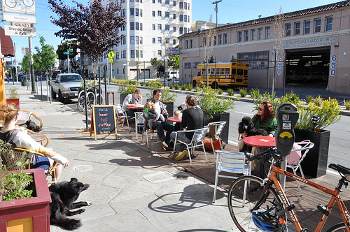 With numerous dining and entertainment options, a handy central location, and quick access to some of the city's top outdoor recreation spots, San Francisco's North Panhandle neighborhood has plenty to recommend it — and therefore no shortage of eager homebuyers.
As is apparent from its name, North Panhandle – or NoPa, as it has come to be known – is situated on the north side of The Panhandle, the narrow strip of park that leads into to Golden Gate Park. Roughly bounded by Stanyan Street to the west, Turk Street to the north, and Divisadero Street to the east, the neighborhood offers a quick commute to downtown areas via three Muni bus lines: the 5-Fulton, 21-Hayes, and 31-Balboa.
NoPa residents enjoy a short walk to The Panhandle, which despite its modest size provides a playground, basketball courts, and plenty of room to spread out and lounge. The Panhandle is also popular with bicyclists and rollerbladers, many of whom continue on to Golden Gate Park. Alamo Square Park, with its iconic view of the famous Victorian homes known as the Painted Ladies, is also within close proximity.
Neighborhood locals have a wide variety of restaurants from which to choose, many of which line bustling Divisadero Street. Sister restaurants Nopa and Nopalito were both named to the San Francisco Chronicle's 2014 list of the top 100 Bay Area restaurants. Little Star Pizza, known for its deep-dish pies, is another popular spot, while Brenda's Meat & Three and 4505 Burgers & BBQ are more recent additions to NoPa's culinary scene.
Also relatively new to the neighborhood is the second location of Bi-Rite Market, a San Francisco institution for 75 years. Locals can also do their grocery shopping at Falletti Foods, another midsize market, or chain supermarket Lucky. Every Sunday morning, the intersection of Grove and Divisadero streets is home to a farmers' market.
NoPa residents don't need to leave the neighborhood for nightlife, thanks to the bars and clubs that line the Divisadero corridor. Concert venue The Independent attracts both national and local acts that span a wide range of musical genres.
Properties in NoPa range from classic Edwardian and Victorian homes built at the turn of the 20th century to more recently constructed condominiums. But no matter what type of property hopeful neighborhood homebuyers are looking for, they should expect to contend with very low inventory levels and competition from other home shoppers.
Available single-family homes in the neighborhood were virtually nonexistent in 2014, with just five properties changing hands, according to MLS data. Condominium inventory is also scarce; in December the months' supply of inventory (MSI) for properties sold was 0.5, and the MSI exceeded 1.0 in just two months of 2014.
Because NoPa properties can be difficult to come by, serious homebuyers in the neighborhood should prepare in advance to pay a premium. The average condominium in the neighborhood sold for 115 percent of original price in December, similar to levels observed during the rest of 2014.
(Photo: Flickr/Jeremyashaw)