Home price appreciation in the San Francisco metro area remained robust in November, with 20-plus percent year-over-year gains for the ninth consecutive month, according to both the most recent and past S&P/Case-Shiller reports.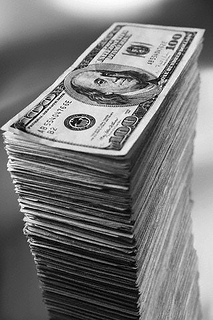 From November 2012 to November 2013, homes prices in the San Francisco region jumped 23.2 percent. Year-over-year price gains hit their 2013 peaks in September, at 25.7 percent, before declining slightly in each of the two following months.
Across Case-Shiller's 20-city composite in the U.S., 2013 marked the strongest November in eight years, David M. Blitzer, chairman of the Index Committee at S&P Dow Jones Indices, said in a statement. The composite increased 13.7 percent from November 2012.
San Francisco was just one of three U.S. metro areas to post gains of more than 20 percent. Only the Las Vegas region saw larger yearly increases in November.
In October the San Francisco region experienced its first month-over-month price drop in more than a year and a half, according to the report. But monthly prices rebounded in November, inching up 0.4 percent.
Year-over-year median sales price growth across Pacific Union's eight Bay Area regions was mostly vigorous in November, with six areas boasting double-digit percent increases for single-family homes, according to MLS data.
Appreciation was highest in Napa County, where prices shot up 36 percent between November 2012 and November 2013. Contra Costa County followed close behind, with price increases of 29 percent during that time frame.
Home prices in our Silicon Valley region topped the $2 million mark in every month of 2013 and spiked 20 percent from last November. Sonoma County also enjoyed gains of 20 percent, followed by San Francisco (18 percent), the East Bay (15 percent), and Marin County (6 percent).
The median sales price for a single-family home decreased by 6 percent in Sonoma Valley, the only one of our Bay Area regions to experience year-over-year November declines. The median home price hit a two-year peak in Sonoma Valley last August, when it reached $681,000.
See the chart below for more detailed Bay Area home price data.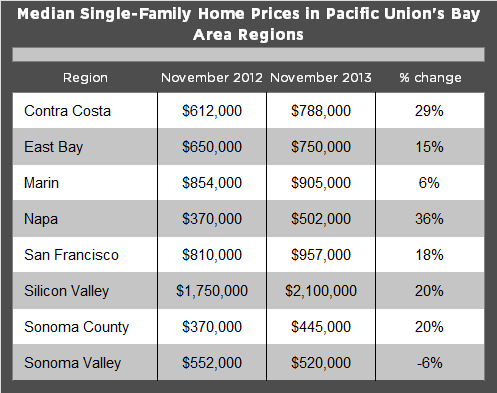 (Photo: Flickr/Rayana,,)