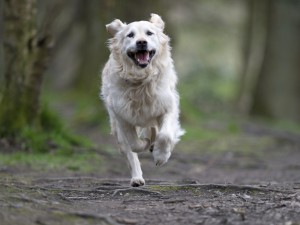 Here's a look at recent news of interest to homebuyers, home sellers, and the home-curious:
LISTING VIDEO IS FOR THE DOGS
Man's best friend could also be his chief marketer when it comes to selling a home.
A New York real estate professional recently employed a pair of golden retrievers to narrate a listing video, a tactic that has garnered the clip a surprising number of YouTube views.
The canines, speaking with an Australian accent, laud the 3,369-square-foot Westchester County home for its pool and expansive grounds, noting that there's "even a place for my human to relax."
---
U.S. BIDDING WARS DOWN IN DECEMBER
Competition for residential housing eased throughout the U.S. in December but varied considerably by region, a new report shows.
A solid 52 percent of Redfin offers in the U.S. faced bidding wars in the last month of 2013, compared with 52.8 percent in November and 62.4 percent in December 2012, the brokerage said in its Real-Time Bidding Wars report.
However, the numbers actually rose month over month in San Jose and San Francisco, the nation's two most competitive cities respectively.
San Jose saw the percentage of offers facing other bids increase to 85.3 percent in December, up from 77.4 percent in November but down from a stunning 94.3 percent a year earlier. San Francisco's figures came in at 78.7 percent in December, compared with 75.2 percent in November and 86.8 percent in December 2012.
Redfin predicted the market will continue heating up in the new year.
"Overall competition normally rebounds sharply in January as the new real estate season kicks off and we expect this year will be no different," the company said.
---
MORTGAGE RATES DIP AS U.S. HOME SALES DECLINE
Mortgage rates dipped slightly after U.S. new home sales declined in December, and an influential market report showed national home prices decreased for the first time in months.
In the week ending Jan. 30, 30-year fixed-rate mortgages averaged 4.32 percent, down from 4.39 percent the previous week but up dramatically from 3.53 percent a year earlier, the Freddie Mac Primary Mortgage Market Survey reported.
"Mortgage rates eased somewhat as new home sales fell 7 percent in December," Frank Nothaft, Freddie Mac vice president and chief economist, said in a statement. "The S&P/Case-Shiller 20-city composite house price index declined 0.1 percent for the month of November, the first decrease since November 2012."
Despite the Case-Shiller index's overall drop, the report showed prices in San Francisco actually increased 0.4 percent in November compared with a month earlier and were up a whopping 23.2 percent year over year.
---
DOWNTOWN MANHATTAN PENTHOUSE SELLS FOR $50.9 MILLION
If you thought San Francisco condos were getting pricey, a downtown Manhattan penthouse recently went for a cool $50.9 million.
Penthouse One, a nearly 6,000-square-foot five-bedroom home in the Walker Tower in Chelsea, takes up an entire floor in the Art Deco building.
The deal may be the most expensive home sale on record in downtown Manhattan, The Wall Street Journal reports.
(Photo: Flickr/RayMorris1)