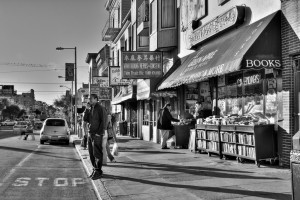 San Francisco's Inner Richmond neighborhood offers residents one of the best shopping and dining districts in the city, with easy access to nature and express transit downtown.
Residential parts of the neighborhood tend to feel quieter than more bustling sections of the city – and, thankfully, housing is often a bit roomier as well.
Most of the neighborhood's commercial activity centers on Geary Boulevard and Clement Street. Clement, in particular, is home to a plethora of Asian eateries and food markets, as well as bars and boutique shops.
Frequently rated the best bookstore in San Francisco, neighborhood anchor Green Apple Books has called Clement Street home since 1967. Across the street, the popular Wing Lee Bakery serves up delicious and affordable dim sum, such as pork buns, pot stickers, and shrimp dumplings.
Other neighborhood restaurants include the always-crowded Burma Superstar and its sister B Star, fellow Burmese restaurant Mandalay on California Street, and French bistro Chapeau!.
Locals have been sipping coffee and debating philosophy for decades at the charming Blue Danube Coffee House, and store/gallery Park Life consistently offers up quirky housewares and clothing.
Opportunities for outdoor recreation abound in the Inner Richmond.
Beautiful Mountain Lake Park, once home to a famously loud swan who regularly waddled across Lake Street, is a favorite neighborhood recreation spot for tennis, picnics, jogging, and dog walking. Golden Gate Park and the Presidio of San Francisco also border the neighborhood.
Parking is notoriously challenging in the Inner Richmond, but luckily the neighborhood lays claim to several Muni lines, including the 38-Geary with its giant express buses downtown. The 1-California, 2-Clement, 33-Stanyan, and 44-O'Shaughnessy routes also service the area.
Single-family homes in the Inner Richmond went for a median price of $1.48 million in June, while the median price for condominiums was $855,000, according to MLS data. Supply remained low with just two condos and five single-family homes changing hands last month.
(Photo: Flickr/Rubin Starset)