Sellers: If you want to spruce up your home before putting it on the market and are wondering where to focus your attention, look no further than the kitchen.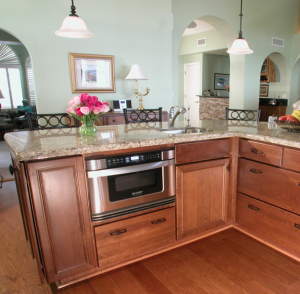 Prospective homebuyers will remember a bright, attractive kitchen with high-end appliances and designer features long after they have forgotten the color of the living room carpet or window treatments in the master bedroom.
It's no coincidence that kitchen amenities were at the top of a recent list of the seven upgrades that have the most influence on buyers.
The list was compiled by David Barca, vice president of Pacific Union's Silicon Valley region, and was published on this blog in March. High-end kitchen appliances ranked No. 1 on the list, followed by natural stone countertops and fine details such as faucets, light fixtures, and cabinet knobs.
Remodeling advice also comes from Realtor Magazine, published by the National Association of Realtors, which last month listed a dozen trends generating "the hottest buzz in kitchens this year." They include:
Streamlined, modern looks, with less ornamentation and cleaner lines
Open design, with no doors and walls to neighboring rooms
Walls painted gray as a counterpoint to the always-popular white
Wood or porcelain flooring (both are popular)
Quartz countertops in place of granite, which is slipping in popularity
Induction cooktops, microwave drawers, high-output gas ranges, steam ovens, and french-door refrigerators
Drawers — not doors — beneath countertops
Countertops with extra power outlets that pull double-duty as a charging station.
If your kitchen is particularly small, it's important that you take steps to brighten the room. Dark spaces appear smaller, so make sure that windows allow as much sunlight as possible to flood the room. If that's not enough, add attractive light fixtures and turn them on during homebuyer open houses.
Also, remove clutter and appliances from countertops to make the space appear cleaner and larger.
Are the cabinets stained a dark color? Paint them white to reflect light and help make your kitchen feel much bigger and open.
Whether you're making small improvements or undertaking a major remodeling job, homebuyers will remember attention to kitchen details.
(Image: Flickr/Nancy Hugo, CKD)