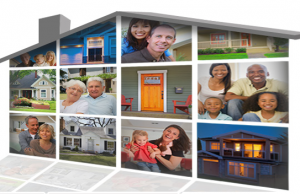 Here's a look at news this week of interest to homebuyers, home sellers, and the home-curious:
HOME VALUE INSURANCE – GONE ALREADY?
A San Francisco startup appeared on the real estate scene last year with an innovative idea: offer insurance policies to protect homeowners against a drop in home values. Home Value Insurance Co. was backed by the near-legendary investment firm Kleiner Perkins Caufield & Byers, and it first offered policies in Ohio, Oklahoma, Georgia, and Indiana, with plans to quickly go nationwide.
Or maybe not. The company has posted a message on its website stating "Coverage Unavailable At This Time," and veteran real estate columnist Ken Harney wrote this week that the business appears to have been suspended and company representatives are nowhere to be found.
BEIGE BOOK OFFERS ROSY REVIEW
A report Wednesday from the Federal Reserve Bank of San Francisco confirmed that housing demand continued to improve during the reporting period of July through mid-August in the nine western states within its boundaries, helping the region see "modest" economic expansion.
The San Francisco report was included in the latest "Beige Book" report on current economic conditions, issued by the Federal Reserve. Among its conclusions for the western region:
"Although it is still well below its historical average, the sales pace for new and existing homes picked up further in many areas, and some contacts pointed to pent-up demand that may spur additional gains. Contacts also reported that the share of foreclosures and short sales in overall home sales has been declining, and the quality of the inventory of available homes has improved."
FIRST RESULTS FROM MORTGAGE SETTLEMENT
The nation's five largest banks have provided $10.6 billion in mortgage debt relief to nearly 140,000 homeowners facing foreclosure, according to a government report on Wednesday. It's the first payback under a $25 billion settlement with state and federal investigators looking into foreclosure abuses.
On average, borrowers received more than $76,000 apiece, according to the U.S. Office of Mortgage Settlement Oversight, and nearly half of the money so far — $4.6 billion — went to Californians.
Most of the relief came in the form of debt forgiveness on short sales, which allows homeowners to sell homes for less than what is owed on their mortgages. The banks participating in the debt relief program are Bank of America, JPMorgan Chase, Wells Fargo, Citigroup, and Ally Financial.
FORECLOSURE SALES LOWER, PRICES HIGHER
Foreclosure-related home sales fell 22 percent, year over year, to 224,429 in the second quarter, the first annual decrease in foreclosure-related sales since the fourth quarter of 2010, according to a report Thursday from data aggregator RealtyTrac.
Meanwhile, the average foreclosure-related sales price in the second quarter was $170,040, up 7 percent from a year ago, for the first annual price increase in two years.
Foreclosed or bank-owned homes sold on average for 32 percent lower than the average price of a non-foreclosure home, RealtyTrac said, and foreclosure-related sales accounted for 23 percent of all home sales in the second quarter, up from 19 percent a year ago.
INVESTOR INTEREST WANING?
An article this week on the Wall Street Journal's real estate blog predicts that investors will lose interest in the housing market as home prices rise.
The share of home purchases by investors "has fallen off significantly in June and July" amid steadily rising prices, the article states, quoting a recent survey of real estate agents. Meanwhile, current homeowners have increased their share of home purchases in recent months.
TIME FOR ADJUSTABLE-RATE MORTGAGES
Unless you're planning to stay in your home for the long term, an adjustable-rate mortgage might save you more money than a fixed-rate mortgage, according to an article in this week's Fortune magazine.
Homeowners who are planning to move or pay off their mortgage over the next few years can save big with an ARM, according to the article, which goes on to explain the math that proves the point.