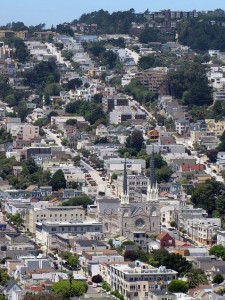 Summertime typically sees a slowdown in real estate activity as families turn their attention to vacation getaways and preparations for the upcoming school year.
But this summer has been different. Home sales are rising across the Bay Area and the nation, and home values are rising, too, helping to coax homeowners to put their properties on the market and spur even more sales.
Two influential housing reports released this week make it clear that the housing recovery we've seen in the Bay Area since the first quarter of 2012 has taken hold in all 50 states. The S&P/Case-Shiller Home Price Index found that home prices in June rose 2.3 percent, month over month, and 0.5 percent from one year earlier — the first year-over-year increase since the summer of 2010.
Also, the National Association of Realtors said its Pending Home Sales Index — a more-current, forward-looking measure of the housing market — rose 2.4 percent from June to July and was up 12.4 percent from July last year.
Similar statistics from the Bay Area point to even stronger growth.
Home sales saw tremendous increases across Pacific Union International's seven Bay Area regions in July from one year ago. According to MLS data, sales were up:
Bay Area home values have also posted solid gains as they inch back toward their 2006 peaks. Napa County led the pack in July, with median home sale prices jumping 23.6 percent from one year ago, followed by Sonoma Valley (13.4 percent), San Francisco (8.2 percent for homes, 19.8 percent for condominiums), Contra Costa County (9.5 percent), Marin County (8.7 percent), and Sonoma County (7.2 percent). Prices fell 4.6 percrent in the East Bay region.
(Photo of San Francisco courtesy of Sergejf, via Flickr.)