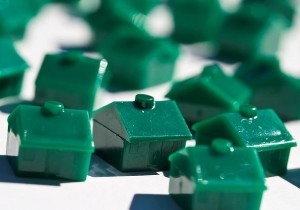 Here's a look at news this week of interest to homebuyers, home sellers, and the home-curious:
HOME FLIPPING GETS FHA BLESSING
Single-family home investors and rehabbers got an early Christmas present from the Federal Housing Administration: a temporary waiver of the FHA's 90-day anti-flipping rule.
The waiver, through 2014, allows FHA financing for purchases of homes from sellers who have held title to their properties for fewer than 90 days. It continues a policy first adopted by the Obama administration in 2010.
The FHA imposed the 90-day rule to rein in rampant quick-flips of homes. Many times investors made minimal or no improvements to rundown or foreclosed properties and then sold them weeks later at high markups with the help of inflated appraisals to purchasers using FHA loans.
---
FANNIE, FREDDIE DELAY EVICTIONS
More holiday cheer, but with a Charles Dickens-like twist: Homeowners facing eviction will get a brief respite during the upcoming holiday season.
The federal mortgage companies Fannie Mae and Freddie Mac announced this week that they will delay evicting families from their homes so they can spend the holidays with a roof over their heads.
Fannie Mae will suspend evictions from Dec. 17 through Jan. 2, and Freddie Mac will do the same from Dec. 19 through Jan. 2.
---
SHORT SALES
A tax break scheduled to expire at the end of the year is behind a big jump in short sales.
Short sales in which homeowners had fallen behind on mortgage payments soared 22 percent in the third quarter of 2012 compared with the same period last year, according to a report from the marketing firm RealtyTrac. Short sales by homeowners current on their payments also rose — by 17 percent.
In a short sale, homeowners sell at a price that is less than what they owe the bank, and the bank agrees to absorb the loss. Currently, homeowners don't have to pay federal tax on the unpaid mortgage debt because of a law enacted during the housing recession, the federal Mortgage Forgiveness Debt Relief Act.
But the act expires Dec. 31, and unless it is extended, the IRS in January will start treating unpaid mortgage debt as taxable income for many borrowers. In California, the average amount of forgiven debt in a short sale is $136,104, according to RealtyTrac.
---
NO CHANGE TO CONFORMING LOAN LIMITS
The Federal Housing Finance Agency announced that the maximum conforming loan limits for mortgages acquired by Fannie Mae and Freddie Mac in 2013 will remain at existing levels.
In the Bay Area, loan limits range from $520,950 in Sonoma County and $592,250 in Napa County to $625,500 in Alameda, Contra Costa, Marin, and San Francisco counties. In the Tahoe/Truckee area, loan limits are $474,950 in Placer County and $477,250 in Nevada County. The standard limit in other, lower-cost parts of the country is $417,000.
---
CALIFORNIA HOME PRICES UP 9%
Home prices in California increased 9 percent in October from a year earlier, according to research firm CoreLogic. Across the country prices rose 6.3 percent for the biggest year-over-year gain since 2006.
October marked the eighth straight month of year-over-year price increases, more evidence of growing strength in the housing market. CoreLogic also reported that foreclosures were down 17 percent in October from a year earlier.
---
S.F. ASKING PRICES, RENTS, INCH HIGHER
Asking prices for San Francisco homes listed on the online real estate site Trulia were up 9.5 percent in November from a year earlier, and rents rose 5.8 percent.
Trulia's monthly price report found that the average asking price for homes nationwide was up 3.8 percent in November, the largest year-over-year increase since the housing recession began.
(Photo of toy houses courtesy of Woodleywonderworks, via Flickr.)