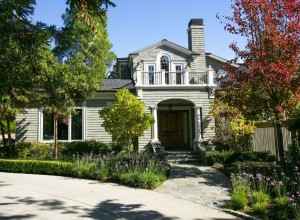 Part of the charm of the estate at 4 Orchard Way, Kentfield, aside from its impeccable design, spacious interiors, and high-end details, is its incongruity.
Here at the base of Mt. Tamalpais, in Marin County's exclusive Kent Woodlands neighborhood, is a home that, from the street, looks straight out of New England. Its Colonial-era styling and wood-shingle siding suggest the home has been around for a century or two, but in fact it dates only to 2006.
Built in the Hamptons style by Marin architect Jared Polsky, the genteel appearance belies the modern amenities that await: the gourmet kitchen with Calacatta Oro marble countertops, the breakfast area that opens onto the broad, sun-drenched patio, the covered loggia with massive stone fireplace, the pool, and spa.
The home sits on a level, beautifully landscaped lot with stunning views of Mt. Tam.
Additional information:
Five bedrooms, four-and-a-half bathrooms
5,176 square feet
Distressed walnut flooring
Crown molding, high ceilings
Offered at $5,995,000. Learn more about 4 Orchard Way, Kentfield. (Note: The property is not yet listed in MLS databases.)
PHOTO GALLERY