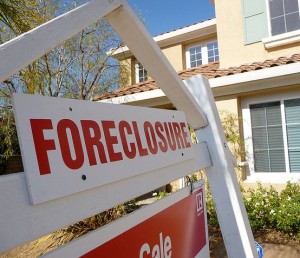 Here's a look at news this week of interest to homebuyers, home sellers, and the home-curious:
HOME REPOSSESSIONS ON THE RISE
Home repossessions rose to a nine-month high in November, even as the number of homes starting on the path to foreclosure declined to the lowest level in six years.
Banks completed foreclosure on 59,134 homes last month, up 11 percent from October and 5 percent from a year earlier, according to research firm RealtyTrac.
Last month marked the first annual increase in bank repossessions since October 2010, when allegations of abuses by the mortgage industry compelled many lenders to temporarily halt foreclosures.
The combination of a sharp increase in homes taken back by lenders and a continued decline in foreclosure starts — down 28 percent in November from a year earlier — signals that banks are moving to complete foreclosures on homes with mortgages that have gone unpaid for a year or two, if not longer.
---
UNCERTAIN MARKET FOR APARTMENTS 
A report from Fitch Ratings warns that the improving U.S. housing market could harm apartment investors that have raked in large profits in recent years by renting to displaced homeowners.
Fitch said an improving housing market could limit rental income for multifamily real-estate investment trusts. The ratings firm estimates that 80 percent of the growth in apartment demand between 2009 and 2011 came from declining homeownership.
---
HOME BUILDER GOING PUBLIC
A Wall Street Journal story says plans by an Arizona-based homebuilder to sell stock in an initial public offering could be the first in a wave of private builders going public.
Taylor Morrison builds higher-end homes across the country, including in California. With rising prices and a pent-up demand for housing, analysts say it's a red-hot market for builders. The stocks of public builders are trading at nearly twice their book values, meaning most builders right now are worth more as public companies than they would be as private ones.
If Taylor Morrison's IPO is completed, the company would be the sixth-largest publicly traded home builder in the U.S. based on 2011 revenue, ahead of KB Home and behind Toll Brothers.
---
NEW RESEARCH: 'HOW HOUSING MATTERS'
The MacArthur Foundation — the nonprofit group behind the "genius grant" awards — is sponsoring research that shows how housing impacts the economy, as well as individual, community, and regional economic success.
The foundation is accepting research abstracts for the final year of a five-year, $25 million study, "How Housing Matters to Families and Communities." The study seeks to shed light on the difference that living in decent, stable, and affordable housing makes in the lives of children, families, and communities.
(Foreclosure sign photo courtesy of BasicGov, via Flickr.)