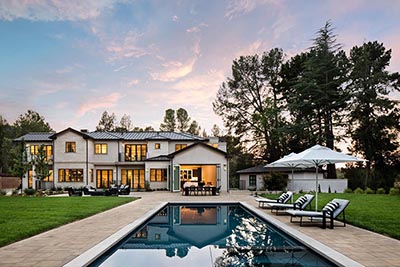 Here's a look at recent news of interest to homebuyers, home sellers, and the home-curious.
ATHERTON AND LOS ALTOS TOP LIST OF THE NATION'S PRICIEST COMMUNITIES
Yet another report highlights Silicon Valley's massive wealth, with two of the region's housing markets ranking as the most expensive in the country.
That's according to a video produced by realtor.com, which call out the country's five highest-dollar housing market based on median list price, with Atherton at the top of the list. The San Mateo County town's median list price over the past year was $10,194,000, the highest in the nation. The video notes that buyers in Atherton are often in search of large properties, with many homes in the community larger than 8,000 square feet.
Los Altos ranks No. 2 in America, with a median list price of $6,326,000. While homes in Los Altos may not be as sizable as those in Atherton, realtor.com assures viewers that residents of the Santa Clara County city have plenty of money at their disposal.
A Pacific Union analysis of MLS data earlier this month found that the median sales price in Atherton was up by 40 percent year over year in the second quarter, among the highest rates of appreciation in the Bay Area. Another Pacific Union study published last week found that Los Altos ranks among the region's fastest-paced housing markets, with single-family homes selling in an average of 14 days in the second quarter.
---
SAN FRANCISCO FAMILIES CAN SAVE THE MOST MONEY IN THE NATION?
Here's a surprising statistic about the City by the Bay: Families here have the highest rate of potential yearly savings in America.
A recent SmartAsset study calculates the amount of money households can save in 22 cities based on after-tax annual incomes and average expenditures — including housing costs. Believe it or not, San Francisco comes in at No. 1, thanks to an average yearly income of $88,199, the most of any city included in the analysis. San Francisco families have average expenditures of $75,380, meaning that 14.5 percent of their annual incomes are considered disposable.
San Francisco families spend $30,355 per year in housing, the most in SmartAsset's survey. And while the company suggests that families in the city should try to cut housing costs, that's a tough nut to crack in today's market. As of July, the California Association of Realtors put the median sales price for a home in San Francisco County at $1,650,000, the highest in California. The city is the most expensive rental market in America according to Zumper's August rent report, with one-bedroom units fetching a median $3,500 per month.
---
U.S. HOME PRICES RISE FOR THE 77TH CONSECUTIVE MONTH IN JULY
Home prices continued their upward trajectory for almost six-and-a-half years in July, as inventory woes continued to plague the nation's housing market.
In its latest existing home sales report, the National Association of Realtors says that the median sales price for all existing homes was $269,600 in July, a year-over-year gain of 4.5 percent. Home sales declined by 1.5 percent from July 2017, the fifth straight month of annual declines.
Nationwide, there were 1.92 million homes for sale and a 4.3-month supply of inventory, both unchanged from a year ago. Due to the inventory shortage, homes sold in a brisk 27 days in July, with more than half of properties finding a buyer in less than a month.
"Listings continue to go under contract in under month, which highlights the feedback from Realtors that buyers are swiftly snatching up moderately-priced properties," NAR Chief Economist Lawrence Yun said in a statement. "Existing supply is still not at a healthy level, and new home construction is not keeping up to meet demand."