Sixty-one percent of millennials without mortgages have credit scores lower than 661.
Millennials with mortgages have average credit scores of 716.
While one survey puts the number of millennials who think homeownership is a good investment at more than 80 percent, another poll says that less than half of that generation express the same sentiment.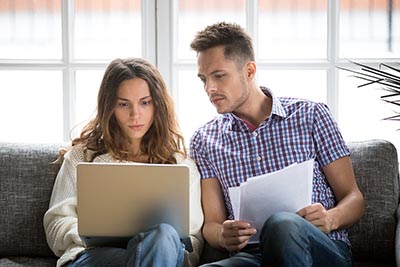 Besides student debt, rising home prices, and higher mortgage rates, most millennials also face the challenge of improving their credit scores to enter the housing market.
An Experian study found that just 39 percent of millennials without a mortgage have what is considered a prime credit score of 661 or higher. Millennials under age 28 and younger have average credit scores of 652, while millennials age 29 and older are in the prime range, at 665.
Millennials are also more likely to be delinquent on personal loans than the average American, although they account for only about one-fifth of such activity. Experian says that 2.08 percent of younger millennials and 1.51 percent of older millennials were late on personal loan payments, compared with the national average of 1.32 percent, although slight behavior shifts could improve that trend.
"We're seeing that small changes in financial behaviors such as building a history of on-time payments and improved credit practices can help lenders shift from viewing millennials as high-risk to low-risk relatively quickly," Experian Vice President for Analytics and Business Development Michele Raneri said. "Knowing where you stand from a credit perspective is critical to improving or maintaining your financial well-being."
Returning to the subject of credit scores, millennials with mortgages unsurprisingly have higher ones than those who do not own homes. More than three-quarters of millennials who own real estate have a credit score higher than 661, averaging 716.
Studies conflict on whether millennials who haven't already purchased real estate even aspire to homeownership. Citing research from the National Association of Realtors, Experian says that 86 percent of millennials think that purchasing a home is a good investment. However, survey results from ValueInsured found that less than half of millennials believe that buying a home in the current market is a good investment, while the number of that generation who believe that buying is better than renting is down by about 20 percent from two years ago.
(Photo: iStock/fizkes)