Here's a look at recent news of interest to homebuyers, home sellers, and the home-curious:
NEW HOME SALES SURGE IN JANUARY
Buyers across the country snapped up new single-family homes in the opening month of 2014 at the briskest pace seen since July 2008.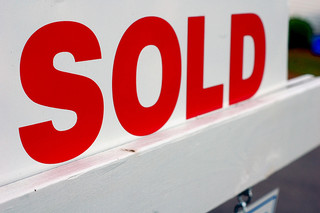 Citing data collected by the U.S. Department of Housing and Urban Development and the U.S. Census Bureau, the National Association of Home Builders reports that 468,000 new homes sold in January, a 9.6 percent spike from the previous month.
New home sales were by far the most robust in the Northeast, where they shot up nearly 74 percent. In western states, they rose 11 percent in January.
According to NAHB Chief Economist David Crowe, the jump in sales is likely due to a combination of low interest rates, affordable prices, and an improving economy.
---
CALIFORNIA PENDING HOME SALES BACK UP IN JANUARY
After two months of dips, pending home sales in California were back on the uptick in January.
According to the California Association of Realtors, pending home sales in the Golden State increased nearly 23 percent from the previous month but were still down 17.5 percent from January 2013.
CAR's report also provides statistics on distressed sales in the state, as well as individual counties. In January distressed sales accounted for 16 percent of all transactions in California.
Most Bay Area counties had fewer distressed sales than the statewide average. San Mateo County had the second-lowest percentage of distressed sales of counties included in the report, at 7 percent. Santa Clara (8 percent), Alameda (10 percent), Sonoma (11 percent), Contra Costa (12 percent) and Marin (13 percent) counties also came in below the California average.
Napa and Solano counties saw more distressed sales than the statewide average, at 17 and 22 percent respectively.
---
INVESTORS BACKING OFF OF REAL ESTATE MARKET
The number of institutional investors purchasing residential real estate in the U.S. reached a 22-month low in January, according to RealtyTrac data.
The firm defines an institutional investor as any entity that buys at least 10 properties in a calendar year. In January purchases by such investors accounted for 5.2 percent of transactions, down from 7.9 percent in December and 8.2 percent the previous January.
RealtyTrac also found that some metro areas with the biggest year-over-year price increases experienced slight monthly dips in the first month of 2014. Locally, both the San Francisco and San Jose areas – where prices are up about 25 percent from the previous year – saw prices slide 2 percent from December to January.
---
MOST TEACHERS UNABLE TO AFFORD A HOME IN CALIFORNIA
Rising home prices are increasingly pushing teachers out of the California real estate market, particularly in some of the most coveted Bay Area locales.
A recent Redfin study found that just 17 percent of teachers in the state — whose salaries average $69,000 — could afford the median home list price of $485,000. Seven of the eight Bay Area counties included in the study were even less affordable for teachers than in the state overall.
In San Francisco not a single home for sale was within reach of the average teacher. In San Mateo County, teachers could afford only 1.2 percent of homes on the market, slightly less than in Santa Clara County, where the number was 1.3 percent.
(Image: Flickr/Justin Shearer)