Here's a look at recent news of interest to homebuyers, home sellers, and the home-curious.
SIXTY PERCENT OF HOMEBUYERS WILL PAY EXTRA FOR SMART AMENITIES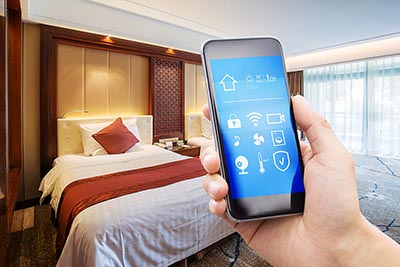 Anyone buying a newly constructed home in the Golden State is likely to get the latest technologies as part of the deal, which could be good news should they ever decide to sell.
Research from John Burns Real Estate Consulting found that 60 percent of U.S. homebuyers will pay extra for a home that has smart features. Three-quarters of buyers are willing to pay more for a wireless security system, 60 percent for a smart phone-controlled thermostat, and 54 percent for automated lighting.
As one of the nation's premier technology hubs, California is near the front of the pack when it comes to smart-home technology adoption. More than three-quarters of new homes in both Northern and Southern California offer smart features, second in the nation behind Florida. Nationwide, slightly more than half of new homes come with the latest and greatest technologies.
To make it easier for Bay Area homebuyers to adopt smart-home technology, Pacific Union forged a partnership with industry leader Nest labs in early 2017. This alliance allows our brokerage's real estate professionals to equip their clients with smart phone-controlled thermostats, smoke detectors, and security systems.
---
SAN FRANCISCO NEIGHBORHOOD CALLED THE NATION'S HOTTEST HOUSING MARKET
Once a relatively obscure neighborhood, San Francisco's Bernal Heights is having its day in the sun, with home prices having more than doubled over the past six years.
Citing data from Compass, Business Insider reports that home prices in Bernal Heights have increased by 111 percent since 2012. The story highlights the many reasons for the neighborhood's popularity, including its small-town vibe, sweeping views of the Bay Area, and vibrant commercial strip on Cortland Avenue. Commenting on the report, HousingWire.com speculated that Bernal Heights just might be the hottest neighborhood in the entire country.
According to MLS data, the median sales price for a single-family home in Bernal Heights was $1.53 million in July. As in other San Francisco neighborhoods, inventory conditions are tight, with just a 1.5-month supply of homes for sale. Buyers who hope to own a piece of Bernal Heights real estate are advised to act fast, as homes sold in an average of 17 days in July.
---
BUYING A SMALLER HOME DOES NOT ALWAYS EQUAL SMALLER BILLS
Although many homeowners eventually decide to downsize as they age and become empty-nesters, they could actually wind up spending more money for less space.
That's according to U.S. News and World Report, which points out that many homeowners who plan to downsize will have to spend money remodeling before they sell, with the average kitchen overhaul costing nearly $64,000. Longtime homeowners in expensive areas of the country like San Francisco also may face sizable capital-gains taxes when they sell their homes.
Other ways that downsizing homes may put in dent in sellers' wallets including moving and storage costs, higher property taxes, and homeowner association dues for those trading up a single-family home for a condominium.
---
SIX OF THE 10 MOST EXPENSIVE U.S. RENTAL MARKETS ARE IN CALIFORNIA
Rental costs are uniformly rising throughout major California housing markets as the summer ends, with San Francisco predictably ranking as the country's most expensive for tenants.
Zumper's latest monthly rent report puts the median rent for a one-bedroom unit in the City by the Bay at $3,570, up by 5.3 percent year over year. On an annual basis, rents also rose by 8.5 percent in No. 3 San Jose to $2,550 and by 5.4 percent in No. 7 Oakland to $2,130.
Rental costs are also up from September 2017 in the three Southern California housing markets ranked among America's 10 most expensive: No. 4 Los Angeles ($2,320), No. 9 Santa Ana ($1,830), and No. 10 San Diego ($1,810)
(Image: iStock/zhudifeng)