Here's a look at recent news of interest to homebuyers, home sellers, and the home-curious.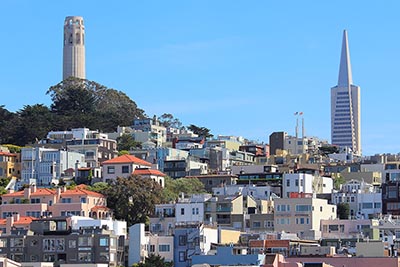 SAN FRANCISCO LOSES ITS STATUS AS HOTTEST U.S. REAL ESTATE MARKET IN APRIL
For the past couple of years, California cities have dominated realtor.com's monthly list of the nation's 20 hottest real estate markets, with San Francisco, San Jose, and Vallejo trading off the No. 1 spot. But that situation has changed as April ends, with a West Texas city claiming the title of America's most in-demand housing market.
Realtor.com measures a real estate market's heat level by the most listing views on its website and fastest pace of sales, and by those criteria, Midland, Texas is the nation's hottest housing market in April. San Francisco, which had held the No. 1 position for the first three months of this year — as well as multiple months over the past few years — fell to No. 3.
The Bay Area's other hot-list stalwarts, Vallejo and San Jose, also tumbled from the previous month, dropping to a respective No. 5 and No. 11. And while California cities have typically accounted for more than half of realtor.com's rankings, there were just six on April's list, rounded out by Sacramento (No. 8), Stockton (No. 9), and Santa Cruz (No. 15).
While California's high housing costs may be causing some prospective homebuyers to peruse listings in other parts of the country, there is no shortage of local demand. According to Pacific Union's first-quarter 2018 real estate report, single-family home prices grew by 25.5 percent year over year in San Francisco and were up by 19.5 percent in Silicon Valley.
---
BAY AREA ENTRY-LEVEL HOME COSTS SEE THE NATION'S LARGEST INCREASE
Over the past year, the housing market has gotten increasingly tougher on first-time buyers, and nowhere is that truer than in the Bay Area.
That's according to research from John Burns Real Estate Consulting, which says that monthly housing costs for first-time U.S. homebuyers was $1,641 as of March, up 9 percent on an annual basis. Monthly housing costs for first-time buyers in the Bay Area are nearly three times the national average: $4,673, the highest of the 31 metropolitan areas included in the analysis. Housing costs for first-time Bay Area buyers rose by 14 percent from March 2017, the largest such increase in the country.
To contend with rapidly rising housing costs, JBREC says that first-time buyers will likely have to make some concessions, including buying smaller and older homes or those located further from job centers. That latter trend is certainly playing out in the Bay Area, as the number of workers who commute more than 90 minutes each day has soared over the past decade. A study by ApartmentList found that the number of these so-called "super-commuters" in San Francisco grew by nearly 113 percent between 2005 and 2016.
---
HOMEBUYER DEMAND CLIMBS TO RECORD HIGH
Americans' consumer confidence is near a two-decade high, and that is translating into increased desire for homeownership.
Citing survey results from The Conference Board, the Orange County Register reports that overall U.S. consumer confidence is the highest in almost 17 years in April. Californians are also feeling good about the economy, with consumer confidence nearing its record peak. The state's thriving job market likely plays a key role in that optimism, with the unemployment rate again at a record low in March according to an analysis by Pacific Union Chief Economist Selma Hepp.
The survey found that 7.8 percent of Americans expect to purchase a home in the next six months, topping the previous survey high of 7.4 percent. Besides real estate, no other major purchase — including automobiles or appliances — has currently eclipsed its prerecession peak.
---
MORTGAGE RATES CONTINUE THEIR RUN-UP
Mortgage rates kept rising last week, but the increases are not putting the brakes on buyer demand for loans.
The latest numbers from Freddie Mac put 30-year, fixed-rate mortgages at 4.58 percent for the week ended April 26, up on both a weekly and annual basis and the highest since August 2013. Fifteen-year, fixed-rate mortgages also rose from the previous week and year, climbing to 4.02 percent.
"Despite the increase in borrowing costs, demand for home purchase credit remains solid," Freddie Mac Chief Economist Sam Khater said. "The Mortgage Bankers Association reported in their latest mortgage applications survey that activity was up 11 percent from a year ago."
(Photo: iStock/tupungato)