Here's a look at recent news of interest to homebuyers, home sellers, and the home-curious:

BAY AREA ANNUAL HOME INVENTORY DECREASES AMONG LARGEST IN U.S.
A lack of available properties for sale remains a problem for beleaguered Bay Area home shoppers, with our two largest regions posting some of the largest annual inventory declines in the U.S.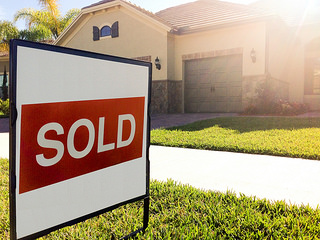 According to recent statistics from the National Association of Realtors, the number of homes listed for sale in the San Jose metropolitan area declined 36.2 percent year over year in September, the second largest decrease in the country. San Francisco saw a 23.4 percent decline in listings during that same time period, No. 7 in the country.
Inventory constraints in both regions are helping to keep home prices high. NAR's data says that San Francisco had the highest median list price in the country in September — $949,000. San Jose had the third largest median list price of $718,000.
---
ATHERTON ONCE AGAIN NATION'S PRICIEST ZIP CODE
For the second consecutive year, Atherton's 94027 ZIP code has been deemed the country's most expensive by Forbes magazine.
Homes in the San Mateo County town had a median list price of just more than $9 million according to the publication, about $2.5 million more than the second-place finisher. Forbes says there were 24 Atherton homes for sale at the time the list was published and that properties took an average of 111 days to sell.
Atherton was the only Bay Area community to finish in the upper part of Forbes' list, unlike last year. In 2013, Los Altos Hills, Belvedere, and Portola Valley ZIP codes also ranked among the country's 10 priciest.
---
RARE NAPA HOME GETS MAKEOVER, CULTURAL LANDMARK STATUS
A Napa home designed by a Bay Area architect who completed just 10 projects in his lifetime has been fully renovated by its owners, becoming the first post-World War II residence in the city to be named a cultural landmark.
The Wall Street Journal has the story of Christiane Robbins and Katherine Lambert – both architects themselves – and the 1953 Napa home that they purchased in 2011 for $588,000. Designed by late architect Jack Hillmer, the home was in complete disrepair at the time its future owners first set eyes on it.
Initially wary that the home could be restored to its past glory without breaking the bank, the pair became convinced it was possible after consulting with a wood-restoration specialist who had worked on another Hillmer home. Using the same four original materials that Hillmer specified – redwood, concrete, glass, and stainless steel – workers were able to reinvent the home while still retaining the original woodwork details and structure.
---
CALIFORNIA MILLENNIALS PLANNING TO GET IN THE HOMEBUYING GAME
A new survey from the California Association of Realtors found that, although Millennials are concerned about the state's high home prices and affordability, most of them plan to make a purchase within the next five years.
CAR's poll found that 58 percent of Millennial respondents expect to purchase a home within the coming five years. Fifty-four percent of those surveyed rated homeownership as being very important, which CAR President Kevin Brown said is good news for the state's housing market.
"What's encouraging is that while many saw their parents or friends struggle through the housing crisis, the majority haven't changed their attitude toward homeownership," Brown said. "Young buyers may have to delay their home purchase, but they eventually hope to own their own home."
(Photo: Flickr/American Advisors Group)