Here's a look at recent news of interest to homebuyers, home sellers, and the home-curious.
SAN FRANCISCO RANKS AS THE NATION'S THIRD BEST JOB MARKET IN 2018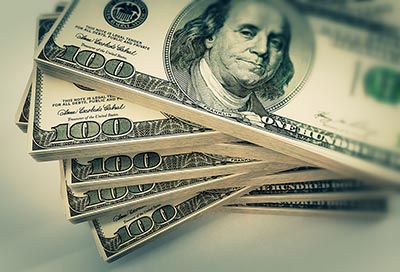 The year 2017 brought plenty of sunny economic news to the Bay Area, and 2018 begins with a report that workers in the Bay Area take home the biggest bucks in the U.S. when they start a new job.
That's according to a WalletHub analysis of the best U.S. places to find a job in 2018, which ranks nearly 200 cities on a 100-point scale using 26 metrics, including highest starting salary. Four Bay Area cities lead the nation for the aforementioned measure, along with Seattle and Washington, D.C.: San Jose, San Francisco, Oakland, and Fremont. (WalletHub did not specify what starting salaries workers are projected to earn in any of those cities.)
Overall, San Francisco ranks as the country's third best job market in 2018, with an overall score of 66.06, though employees in the city face some of the longest commutes and highest housing costs in the nation. Fremont also cracks the top 20, coming in at No. 19 with a 60.04.
San Jose does not appear on the list until No. 32, which could be due to a combination of the region's high cost of living and slowing job growth. A recent blog post from Indeed.com that focuses on Silicon Valley's employment market says that technology job postings in the region dropped by more than 18 percent between September 2015 and September 2017.
---
U.S. FORECLOSURE RATE DROPS TO A 12-YEAR LOW
America's tight housing supply conditions dictate that only the most qualified buyers are purchasing homes, leading foreclosure activity to drop to the lowest level since 2005.
ATTOM Data Solutions' Year-End 2017 U.S. Foreclosure Market Report says that there were a total of 676,535 default notices, scheduled auctions, and bank repossessions last year, representing 0.51 percent of all housing units. Foreclosure activity declined 27 percent year over year and is down 76 percent from its 2010 peak, when nearly 3 million properties were in some state of distress.
Foreclosure activity was also down significantly in California, with scheduled auctions dropping by 39 percent from 2016 to 2017. Bank repossessions and foreclosure starts were also down in the Golden State, declining by a respective 34 percent and 17 percent on an annual basis.
---
BAY AREA SUBURB NAMED ONE OF AMERICA'S 10 MOST LIVABLE SMALL CITIES
Last fall, an analysis by SmartAsset named the Alameda County city of Fremont one of the nation's most livable, and now the same company has bestowed a similar honor on a Solano County suburb.
SmartAsset's list of the most livable small cities in the U.S. ranks Vacaville in the No. 10 spot, with an overall score of 83.34 out of 100. Vacaville earns livability accolades for its low unemployment rate of 3.2 percent, as well as for its plentiful entertainment options. However, Vacaville is still in the Bay Area and thus scores below par for housing costs, with the average household spending 24.3 percent of its median income on a place to live.
The only other California city to make the cut on SmartAsset's list is Folsom, which ranks No. 15 with a score of 81.71. Folsom gets a boost from its 2.1 percent unemployment rate, the third lowest of any of the 25 cities included in the study.
---
U.S. ECONOMY, HOUSING MARKETS START 2018 ON SOLID FOOTING
Although the economy and real estate market appear to be on positive ground as 2018 gets underway, rising home prices and stagnant wage growth are cause for some concern.
Freddie Mac's January 2018 Outlook projects that home sales, home prices, and construction activity will increase modestly this year. Economic growth should remain in positive territory at 2.5 percent, a very slight decrease from 2017. While Freddie Mac does not necessarily sense a looming downturn, Deputy Chief Economist Len Kiefer will be monitoring a couple of key market indicators this year.
"There are factors worth keeping an eye on in 2018, namely, is another recession on the horizon, how will housing markets respond to declining housing affordability and how will young adults move the housing market — more are living at home with their parents today than in 2000," he said.
(Photo: iStock/Tolga TEZCAN)