Here's a look at recent news of interest to homebuyers, home sellers, and the home-curious.
BAY AREA MONEY DRIVING LUXURY HOME SALES IN SACRAMENTO
Surging home price growth in the Bay Area is at least partly responsible for a spike in luxury sales in the Sacramento region, the San Francisco Business Times reports, as Northern California buyers head inland to get more bang for their buck.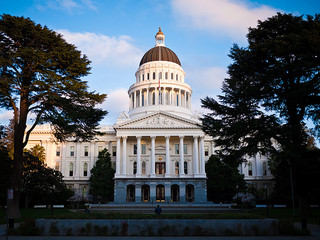 Citing data from Coldwell Banker, the article says that sales of luxury homes – defined as those that sold for $750,000 or more – increased by 30 percent year over in the first quarter in Sacramento, El Dorado, and Placer counties. Company Regional Vice President Terri Briggs told the publication that she believes retirees from the Bay Area are helping to fuel demand for high-end homes in the Sacramento region.
Additionally, Briggs thinks that job growth across Northern California is spurring more home sales, noting that economists have told her that they expect 2016 to be an even stronger year for Sacramento's real estate market.
---
EXISTING HOME SALES REACH 18-MONTH HIGH IN MARCH
Existing U.S. home sales increased on an annual basis for the sixth consecutive month in March, as low interest rates and an improving job market fueled real estate activity.
According to a report from the National Association of Realtors, there were 5.19 million homes sold nationwide in March, up 6.1 percent from February and 10.4 percent from one year ago. March's home sales were the highest since September 2013.
"After a quiet start to the year, sales activity picked up greatly throughout the country in March," NAR Chief Economist Lawrence Yun said. "The combination of low interest rates and the ongoing stability in the job market is improving buyer confidence and finally releasing some of the sizable pent-up demand that accumulated in recent years."
Yun added that inventory increased moderately near the end of March, which should also drive existing home sales, as sellers gain more confidence that they can find another home after selling their current property.
---
BATHROOM REMODELING ACTIVITY RETURNS TO PEAK LEVELS
Kitchen and bathroom overhauls remain the most popular remodeling jobs, says the National Association of Homebuilders, with owners citing the desire to have the latest amenities as their primary motivation.
A survey of NAHB members found that kitchen remodeling activity rose 7 percent from 2013, while bathroom renovations were up by 6 percent. Seventy-eight percent of respondents reported that bathroom remodels are a common job,matching the survey's all-time high.
Window and door replacements were the next most popular home-improvement jobs, followed by entire house remodels, room additions, and damaged-property fixes.
---
SAN FRANCISCO: AMERICA'S BEST CITY FOR RENTING WITH A PET
A new study has named San Francisco the nation's most pet-friendly city, although renters here are better off with a feline friend than a canine companion.
To determine the best U.S. cities for renting with pets, Trulia looked at three factors: the percentage of listings that allow dogs and cats, the least expensive pet fees, and the concentration of pet stores and services. By those criteria, the San Francisco rental market is No. 1 in the U.S. for pet-friendliness, while Oakland ranks No. 4.
But renters with cats will have a better shot at scoring a place, Trulia says. The study found that 26 percent of San Francisco apartment listings allow cats, while 17 percent permit small dogs. Bullmastiff owners might find themselves out of luck, as only 4 percent of San Francisco landlords are OK with large dogs.
(Photo: Flickr/Decafdennis)