Here's a look at recent news of interest to homebuyers, home sellers, and the home-curious.
SAN FRANCISCO, SAN JOSE HOUSING MARKETS RANK IN THE TOP 5 FOR STABILITY
The Bay Area's two largest metro areas are among the most stable housing markets in the country, thanks in part to our region's prosperous economy.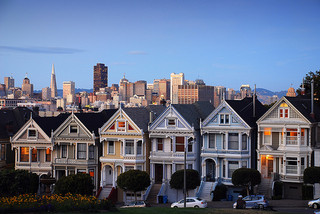 Freddie Mac's most recent Multi-Indicator Market Index (MiMi), which analyzes data through January, ranks the San Jose region as the nation's third most stable housing market, with an overalll score of 84.1. San Francisco ranked No. 5 for stability, with a score of 82.2. The MiMi scale ranges from zero to 200 — with 80 to 120 considered to be the stable range – and ranks regions based on purchase applications, payment-to-income-ratio, amount of owners current on their mortgages, and employment.
Both regions scored high marks for job markets: 103.7 in San Jose and 97.8 in San Francisco. Both also scored above 100 for payment-to-income ratios, though Freddie Mac notes that if that metric surpasses 120, prices could be rising too fast for a median-income household to afford a home.
---
CALIFORNIA PENDING HOME SALES POST BIGGEST GAIN IN 6 YEARS
Pending home sales in the Golden State saw the first double-digit annual increase in three years in February and also the largest gains since the housing crisis.
According to a recent report from the California Association of Realtors, pending home sales rose by 15.6 percent year over year in February, the largest annual increase since April 2009, which suggests that the pace of sales will pick up across the state in the coming months. Pending home sales in the Bay Area also saw double-digit-percentage upticks, increasing by 13.1 percent from one year ago.
The report also shows that distressed sales decreased from February 2014 in every Bay Area county but San Francisco, where they were unchanged at 4 percent. Eight of the nine Bay Area counties had a lower rate of distressed sales than the statewide average of 11 percent, with the exception of Solano County.
---
BIG SILICON VALLEY HOUSING DEVELOPMENT MAY GET THE AXE
Inventory-starved Silicon Valley is facing another housing supply blow, as the U.S. Environmental Protection Agency may put the biggest waterfront development in the Bay Area since the 1960s on the chopping block.
The San Jose Mercury News reports that the EPA has stepped in and taken control of a 1,478-acre site in Redwood City, where Arizona-based developer DMB is planning to build 12,000 homes. Located east of Highway 101, the parcel is situated in a prime location along the San Francisco Bay between the headquarters of tech giants Oracle and Facebook.
At issue is whether the acreage is bound by the Clean Water Act or whether it is dry land that can indeed be developed. The article notes that the EPA is expected to enact more limits that would greatly hinder development on the parcel and will make a final decision by early 2016 at the latest.
---
TIPS FOR SPRING HOMEBUYING SUCCESS
With the busy spring real estate season in full swing, buyers are hitting the streets, but with inventory shortages persisting in regions such as the Bay Area, they are sure to face a swarm of competitors. To that end, the National Association of Realtors has offered some high-level insight into what buyers can do to increase their chances of success.
Citing an article at Learnvest, NAR's blog post says that buyers should have all their ducks in a row before they hit the market, including having their financing preapproved. And although most home shoppers begin their search online, actually getting out and exploring neighborhoods can help them spot properties that have just come on the market.
Finally, a trusted real estate professional can offer buyers expert knowledge on individual communities and market conditions and help them navigate bidding wars, an inevitable fact of life in regions with limited home supplies.
(Photo: Flickr/Phil Gibbs)