Here's a look at recent news of interest to homebuyers, home sellers, and the home-curious:
BAY AREA HOME PRICES COULD SURPASS PEAKS LATER THIS SUMMER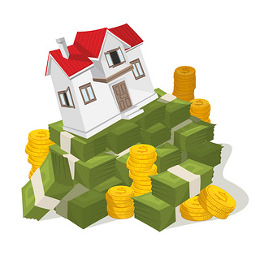 Late last week, we reported that while single-family home prices in some Bay Area counties have already topped their prerecession peaks, the median price across the overall region had yet to reach its 2007 pinnacle. But that milestone could occur as soon as the next few months, according to a new report from DataQuick.
"While some of the Bay Area counties have already re-reached or passed their pre-recession price peaks, the region as a whole is on pace to reach that point later this summer," DataQuick Analyst John Karevoll said in a statement.
DataQuick's report, which includes statistics for both single-family homes and condominiums, places the current median price across the nine-county region at $617,000, a gain of 19 percent since last May and the highest since late 2007. The company says the Bay Area's median price peaked in the summer of 2007, at $665,000.
---
NUMBER OF UNDERWATER HOMES PLUNGES IN SANTA CLARA COUNTY
Silicon Valley's exploding economy has helped drive up home prices in parts of the region, causing more homeowners to regain equity and the number of underwater homes to decrease dramatically.
A recent San Jose Mercury News article says the number of underwater homes in Santa Clara County declined from 136,000 in 2012 to 81,000 in 2013, a 40 percent drop.
"Equity is coming back, and people are breathing a sigh of relief," David Ginsborg, of the Santa Clara County assessor's office, told the newspaper. "Properties are worth more than what people paid for it."
The article notes that southern Santa Clara communities pummeled hardest by the housing – including Gilroy and Morgan Hill — are now leading the county in value gains, thanks in part to a surge in nearby construction activity.
---
SAN FRANCISCO NATION'S MOST EXPENSIVE, FASTEST-RISING RENTAL MARKET
Anyone seeking to emigrate from the Big Apple to San Francisco isn't likely doing it to save a few bucks on rent, a recent Zillow suggests.
In a study published on its blog, Zillow pegged the median monthly rent for a two-bedroom apartment in San Francisco at $3,550, the highest in the U.S. and $50 more per month than in the New York City metro area. San Francisco rents increased nearly 16 percent year over year in May, the largest gains in the country.
While median rents across the Bay in Oakland aren't quite as preposterous, they're hardly a bargain at $2,450 per month. Oakland rents have increased by about 11 percent over the past year, the third-biggest jump in the U.S.
---
BUYERS' BIGGEST OPEN-HOUSE BUMMERS
Even in markets where sellers hold the upper hand, there are some definite no-nos to steer clear of during an open house.
USA Today has compiled a list of the top 10 open-house donts for sellers, starting with sage advice to avoid helicoptering around buyers during walk-throughs. You also don't want a soundtrack, a house that's too hot or cold, or odors of any kind (and do hide the kitty-litter box while you're at it).
Also, the article recommends enlisting the services of top-notch real estate professionals you trust to engage with prospective buyers — not ones who spend the entire open house with their nose buried in an iPhone.
(Image: American Advisors Group)