Here's a look at recent news of interest to homebuyers, home sellers, and the home-curious.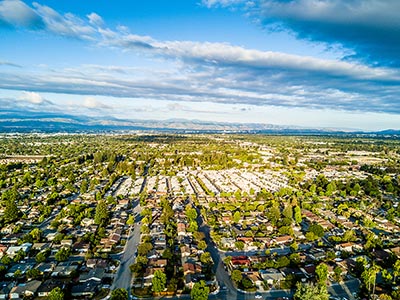 LUXURY HOME PRICES ARE UP SUBSTANTIALLY IN SILICON VALLEY
Silicon Valley's tech juggernaut and interest from international buyers propelled luxury home prices by double-digit percentage points in the first half of this year, with San Mateo County ranking as America's most expensive high-end housing market.
That's according to an analysis by realtor.com Director, Economic Research Javier Vivas, which found that four Northern California counties ranked among the country's 10 fastest-appreciating luxury housing markets in the first half: Monterey (No. 5), Santa Clara (No. 6), Santa Cruz (No. 8), and San Mateo (No. 10). Each of those counties saw annual price growth in the 12 percent to 13 percent price range, with properties in the four counties combined selling in a median 96 days, the fastest pace of luxury sales — defined as the top 5 percent of the market — in three years.
Silicon Valley counties were of course the two most expensive luxury housing markets of the 20 included in the list. In San Mateo County, a luxury home costs $3.5 million, while in Santa Clara County, such properties command $2.8 million.
San Mateo and Santa Clara counties are two of the state's five one-million-dollar housing markets, all of which are located in the Bay Area. The latest home sales report from the California Association of Realtors puts May's median sales price for single-family homes in San Mateo and Santa Clara counties at a respective $1.6 million and $1.4 million.
---
FACEBOOK ALSO RANKS AS THE BEST U.S. COMPANY TO WORK FOR
Recently, job-search portal Indeed ranked Facebook as the best Bay Area company for employees, and it turns out that the social-networking goliath is also the top workplace in the nation.
Facebook took the No. 1 spot on a separate list of rankings of America's top-rated workplaces from Indeed, up from No. 4 on last year's list. While Facebook employee reviews of the company again praise its benefits and perks (such as free meals), workers also appreciate its collaborative, productivity-boosting, high-energy workplace.
Two other Bay Area heavyweights cracked the top 10: Salesforce.com (No. 3) and Apple (No. 10). Other local companies of note included in the entire list of America's 50 best workplaces include eBay, Cisco Systems, and Charles Schwab.
---
FACETIME HOME TOURS HELP BUYERS ACT QUICKLY IN A HOT MARKET
Hot job markets and hot housing markets frequently go hand in hand, and thus some relocating workers are getting a leg up on the competition by buying homes they toured only via an iPhone.
The New York Times reports on this virtual home-touring trend, relaying several stories of owners who recently purchased homes sight unseen. One buyer who was relocating from Chicago to New York received a FaceTime tour of what seemed like an ideal property in the city of White Plains last summer. After reviewing links and comps sent by his real estate professional, he eventually bought the 850-square-foot condominium without ever having set foot inside.
While the buyer said he was overall satisfied with the purchase, FaceTime cannot completely replace physically being in a neighborhood. After moving into his new neighborhood in White Plains, the buyer noticed that parking on all streets was forbidden every night between 2 a.m. and 6 a.m., something he said he would have noticed had he personally been there to walk around.
---
FIRST-TIME HOMEBUYER ACTIVITY TICKS UP
Motivated by a booming job market and finally settling down to marry and raise families, millennials are starting to take out more mortgages, pushing up activity to an all-time high.
A blog post from Freddie Mac says that first-time buyers accounted for 46 percent of its purchased loans in the first quarter, up from 42 percent one year earlier. Freddie Mac expects that first-time buyer activity will continue to increase, while noting that price growth and consistently low inventory present challenges to homeownership for younger generations.
Another potential obstacle is rising mortgage rates. Thirty-year, fixed-rate mortgages ended the week of July 12 at 4.53 percent, up on both a weekly and annual basis.