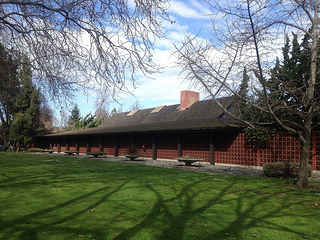 Thanks to its top-rated schools and proximity to kid-friendly spots, Palo Alto's Duveneck-St. Francis neighborhood has long been a favorite with families seeking a place to put down roots.
Also known as Green Gables, Duveneck-St. Francis is roughly bordered by San Francisquito Creek to the north, Oregon Avenue and Embarcadero Road to the south, and Newell Road to the west. Highway 101 runs alongside the neighborhood's eastern portion, a convenient perk for commuters traveling north to San Francisco or farther into the South Bay.
Excellent public elementary schools operated by the highly ranked Palo Alto Unified School District are perhaps the neighborhood's primary draw, according to one of Pacific Union's top real estate professionals in the region.
"The Duveneck area is highly sought after because of Duveneck Elementary and Walter Hays Elementary," our real estate professional says, noting that the city's schools are known for having many willing parent volunteers.
In 2013, Duveneck Elementary School earned a 956 out of 1,000 on the state's Academic Performance Index, while Walter Hays Elementary School scored a 934.
When school isn't in session, there are plenty of local activities to keep children occupied and entertained. Located next to Walter Hays, Rinconada Park is home to two playgrounds and a swimming and wading pool. Young visitors to the park are also sure to enjoy the Palo Alto Junior Museum and Zoo, a free facility that allows children to get up close and personal with more than 50 species of animals and offers hands-on learning exhibits.
And then there's the nearby Palo Alto Children's Theatre, where kids can get performing-arts experience, either on the stage or behind the scenes.
Rinconada is an easy walk from the Palo Alto Children's Library, which has a collection of books specifically geared toward kids below the fifth grade. Older children and teenagers will want to hit the city library system's main branch, which is located on Newell Road and currently undergoing major improvements.
Homes in the neighborhood, many of which were constructed in the mid-20th Century, sit along tranquil, tree-lined streets with minimal traffic. Although almost exclusively residential, Duveneck-St. Francis does have a The Fresh Market organic grocery store and a Shell gas station, both located just off the freeway.
The median sales price for a home in the neighborhood was $2.9 million in February, a year-over-year increase of 69 percent, according to MLS data. Throughout the past year, prices in Duveneck-St. Francis have ranged from $1.5 million to $4.8 million.
Our real estate professional notes that many neighborhood residents are reluctant to leave, which has led to a pronounced shortage of inventory. Since last February just 35 homes in Duveneck-St. Francis have changed hands, and the months' supply of inventory has never climbed above 2.0.
As a result of the short supply of homes, sellers in the neighborhood have enjoyed healthy premiums over the past year. Since February 2013 buyers have paid an average of 18.3 percent above list price.
(Image: Flickr/Alan Cordova)