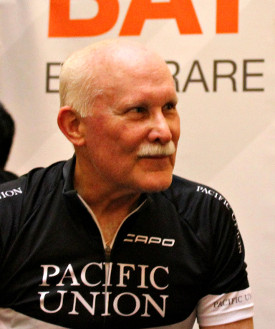 Pacific Union's entire Northern California team would like to tip our collective hat to our own Jim Walberg, who was recently recognized as the year's outstanding industry philanthropist by Who's Who In Luxury Real Estate.
"We are so very proud of Jim's accomplishments, and the acknowledgment is well deserved," says Ellen Anderson, regional executive of Pacific Union's Contra Costa County region. "He is an inspiration to our entire firm."
Walberg's charitable efforts reflect Pacific Union's commitment to giving back to the communities in which we all work and live. Based in our Danville South Office, Walberg earned the accolade for his community work at the annual Who's Who In Luxury Real Estate conference on Oct. 8 in Boston, an experience he describes as a total surprise.
"I never expected the nomination, nor did I expect to be selected from the list of 10 very deserving nominees," Walberg says. "It was a truly humbling and moving experience."
Walberg was the only individual Bay Area real estate professional to be honored in this year's awards ceremony.
In 2013, Walberg formed a four-person team to participate in the February 2014 Cycle for Survival event in San Francisco, an indoor cycling event that raises money to fight rare forms of cancer. He expects to organize an additional 20 teams for the 2015 event and is already 75 percent of the way to meeting that goal. Walberg invites all of his Pacific Union colleagues to join his team.
He is particularly active in the community during the holiday season, taking time out of his real estate career to donate time to the Contra Costa County Food Bank, One Warm Coat, and the Adopt an Angel project. Each February, Walberg assists the Special Olympics in finding local sponsors and coaches so that 40-plus children can take an annual ski trip to Bear Valley.
The real estate professional's work in his local community makes his alignment with our firm a natural pairing. For more than 20 years, we have operated the Pacific Union Community Fund, which donates money to dozens of Bay Area nonprofits and charitable organizations. The fund is made possible through the generosity of our real estate professionals, who contribute a portion of their commissions to help give back to their communities.