Northern California buyers returned to jockeying for single-family homes in November, as inventory decreased from the previous month in every one of Pacific Union's real estate markets. Condominiums in San Francisco and the Tahoe/Truckee region saw that trend reversed; the months' supply of inventory (MSI) expanded very slightly in the former and quite substantially in the latter.
The November MSI for single-family homes in our Bay Area markets ranged from 1.0 in the East Bay to 3.2 in Napa County, meaning that all of our local regions currently favor sellers. In a market that's balanced evenly between buyers and sellers, the MSI generally ranges from 4.0 to 6.0.
Median-sales-price trends were more varied across Pacific Union's regions. Home prices showed month-over-month upticks in Contra Costa County, the East Bay, Napa County, and Tahoe/Truckee but declined in Silicon Valley, Sonoma County, and Sonoma Valley. In San Francisco, single-family home prices rose while condominium prices sank slightly. Median prices remained unchanged in Marin County from October.
Click on the image accompanying each of our regions below for an expanded look at real estate activity in November.
CONTRA COSTA COUNTY
After two straight months of declines, the median sales price in Contra Costa County climbed 7.5 percent in November to $790,000. The MSI, which tied its yearly high of 1.7 in September, fell for the second consecutive month to land at 1.3.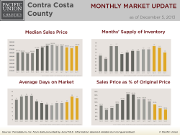 Better news for Contra Costa home hunters is the fact that buyers are no longer paying more than original price. In November, sellers received 98 percent of their original asking price, the lowest since December 2012.
Homes in Contra Costa stayed on the market for an average of 27 days, a slight increase from October but about a week longer than was the case in the summer.
---
EAST BAY
Demand for homes in Pacific Union's still-scorching East Bay market intensified in November, as the MSI dropped to 1.0, the lowest level thus far in 2013. Buyers are still paying quite a premium over asking price – 7.5 percent – but that number has been inching down since September.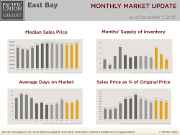 Median home prices, meanwhile, were on the upswing and reached $757, 500 in November. Home prices in the East Bay this year have been higher only in May and June, and the current median price is 16.5 percent above what it was one year ago.
In one way, the East Bay market did slow somewhat: Properties left the market in 24 days, slightly longer than in the previous two months.
---
MARIN COUNTY
Marin County was the sole Pacific Union region where median prices remained static in November, holding steady at $905,000.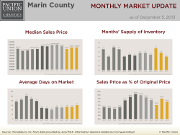 Inventory, on the other hand, continued to shrink for the second straight month, as the MSI tied its yearly low of 1.6.
Marin buyers could afford to take a little extra time making a decision in November, as the average home stayed on the market for about two months, the longest since March. Sellers received just over 96 percent of asking prices, a small decline from October.
---
NAPA COUNTY
Home prices in other Pacific Union North Bay regions dropped or stayed put last month, but in Napa County, they were up for the third consecutive month. For the fourth time this year, the median sales price topped the half-million dollar mark: $512,500 to be exact.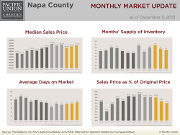 As prices rose, the MSI shrank again to 3.2, similar to levels recorded last November. Buyers in Napa County received some of the biggest discounts all year on homes, paying about 8 percent less than list price.
Homes stayed on the market for an average of 88 days, the longest we've seen since the spring.
---
SAN FRANCISCO – SINGLE-FAMILY HOMES
Buyers seeking a single-family home in San Francisco might regret not having moved in October, when the median sales price was $905,000. In November, that number climbed to $974,000, a month-over-month hike of 7.5 percent.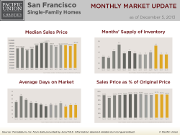 San Francisco homebuyers have been paying more than original price in every month of 2013, and November was no exception, when they shelled out 5.7 percent extra.
Homes stayed on the market for 34 days in November, identical to October. The MSI of 1.4 also remained unchanged from the previous month.
---
SAN FRANCISCO – CONDOMINIUMS
At $862,500, the median price for a condominium was down 4 percent from October but still up 6 percent from November 2012. The MSI rose to 1.4, a barely perceptible increases of one-tenth of a percentage point from the previous month.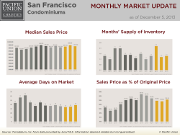 As was the case with single-family homes in San Francisco, condo buyers also found themselves paying above asking prices: 4.4 percent. Not since January have average condo sellers in the city received less than list prices.
The average San Francisco condo left the market in 39 days in October, four days longer than in the previous month and within the general range recorded since May.
---
SILICON VALLEY
After reaching a yearly peak in October, the median sales price in our Silicon Valley region declined by 7 percent in November, to $2,100,000. Prices are still the highest in any of Pacific Union's regions and are up 20 percent from November 2012.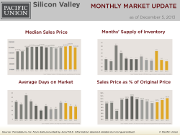 Inventory has been tightening in Silicon Valley since September, and the November MSI of 1.4 is the lowest yet in 2013. As was the case in last month, sellers in the region received a few percentage points above original price: 2.5 percent.
The average time on market for homes in Silicon Valley has been dropping since August. Homes sat on the market for 29 days in November, one day less than in the previous month.
---
SONOMA COUNTY
Though the median sales price in Sonoma County declined a tiny $2,500 in November to land at $455,000, it was still up a healthy 21.5 percent year over year. However, buyers were paying the smallest percentage of asking price since February – just over 94 percent.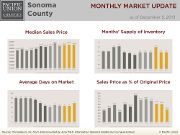 The 2.0 MSI in Sonoma County remained unchanged from October and is identical to levels we noticed in the summer months.
Homes left the market in an average of 79 days, the longest stretch since April.
---
SONOMA VALLEY
Our Sonoma Valley region saw the monthly median price drop 9 percent to $520,000 in November, but it marked the seventh month this year in which the price has exceeded the a half-million-dollar milestone.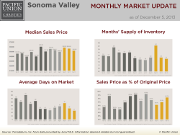 Inventory shrank slightly from October to November, but the current MSI of 2.1 is half of what it was in September. Likewise, the amount of time homes stayed on the market has been steadily declining since the early fall and is now at 51 days, a month-over-month drop of 20 percent.
On the other hand, the percentage of original price that Sonoma Valley sellers received was up for the second month in a row to finish November at 96.7 percent.
---
TAHOE/TRUCKEE – SINGLE-FAMILY HOMES
The coming of ski season helped drive the median sales price for single-family homes in our Tahoe/Truckee region back up to nearly $550,000, a month-over-month gain of 3 percent and a yearly spike of 23 percent.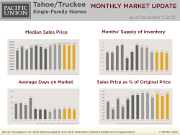 The impending winter also helped move homes in the region off the market faster than in the previous four months, an average of 85 days. The MSI declined slightly to 4.5 but is still in line with what we've seen since August.
Sellers in Tahoe/Truckee received 94.5 percent of asking prices in November, a monthly increase of 1.2 percent.
---
TAHOE/TRUCKEE – CONDOMINIUMS
Median sales prices for condominiums in Tahoe/Truckee bottomed out in July, but they have been on the rise ever since. November's median sales price of $395,000 was the second highest it has been in the past 12 months and represented a year-over-year jump of 37 percent.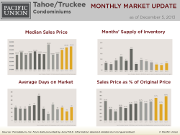 Condo buyers in the region are paying the highest percentage of list price than they have in the past 12 months: 95.7 percent. After dropping every month since June, the MSI began to expand again in November to 6.5.
Tahoe/Truckee condos stayed on the market for 163 days last month, a 50-day increase from October and similar to levels observed in September.