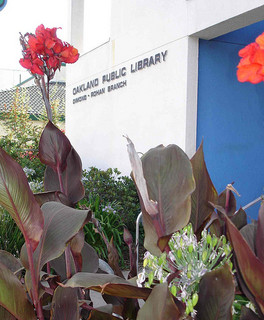 East Bay homebuyers seeking a tranquil, suburban atmosphere without having to leave the city behind may find that Oakland's small Dimond neighborhood offers the best of both worlds.
Tucked in between the Oakmore, Glenview, and Laurel neighborhoods, Dimond is easily accessible from both Interstate 580 and state Route 13. Those who prefer not to drive to work can hop on AC Transit's NL bus line to downtown Oakland or San Francisco, while other residents opt for the casual-carpool stop at the corner of Fruitvale Avenue and Montana Street.
The neighborhood's business and shopping district is centered on the corner of Fruitvale and MacArthur Boulevard and includes Farmer Joe's grocery store, La Farine Bakery, and Peet's Coffee & Tea. According to one of Pacific Union's top Oakland real estate professionals, neighborhood residents and merchants have devoted a tremendous amount of energy to beautifying this area in hopes of attracting even more businesses.
The first weekend of October, the area surrounding Fruitvale and MacArthur hosts the annual Oaktoberfest festival, which celebrates locally brewed beer and features three live entertainment stages.
Compared to some other Oakland neighborhoods located further up the hillside, Dimond is quite walkable, and many residents are within strolling distance of a public library, a post office, several major banks, and a handful of diverse restaurants. WalkScore, an online service that ranks neighborhoods based on amenities within a quarter-mile distance, gives Dimond a score of 82 of a possible 100, which the company calls "very walkable."
Neighborhood families flock to Dimond Park, which is home to several playgrounds, hiking trails, and picnic areas. Located inside the park, Dimond Recreation Center offers residents a public swimming pool and runs after-school programs for kids, as well as various classes for adults.
According to our real estate professional, Dimond buyers increasingly cite the neighborhood's Sequoia Elementary School as one of their primary reasons for moving into the community. In 2013, the school scored an 828 of a possible 1,000 on the state's Academic Performance Index.
Despite the fact that it's not far from downtown Oakland, Dimond has a quiet vibe, with leafy streets and some homes perched on the slopes of hills. Many neighborhood homes were built in the 1920s and 1930s, with Craftsman the dominant architecture style.
Compared with the rest of Oakland, homes in Dimond can still be viewed as a relative bargain. In March, the median sales price for a single-family home in the 94602 ZIP code was $530,000, 29 percent cheaper than in the city as a whole.
As is the case in the rest of our East Bay region, hopeful Dimond buyers can expect to pay a premium in order to secure a home. Sellers in the ZIP code have received above-asking prices for the past 18 months, with buyers paying an average of 11 percent more than list in March.
(Photo: Flickr/Dimondites)