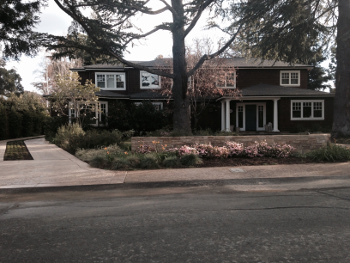 With a prime location near downtown and access to excellent schools, North Los Altos is currently the Santa Clara County city's most-popular neighborhood for well-heeled homebuyers.
Bordered by Palo Alto to the north, El Camino Real to the east, El Monte Avenue to the south, and Los Altos Hills to the west, North Los Altos is roughly equidistant to Interstate 280 and Highway 101, both of which are about four miles away. Depending on their location in the neighborhood, residents can choose from either the San Antonio or Mountain View Caltrain stations for commutes to San Francisco or farther south into Silicon Valley.
North Los Altos attracts many families due to top-rated schools, one of Pacific Union's top Silicon Valley real estate professionals says. According to the California Academic Performance Index, all nine elementary and junior high schools operated by the Los Altos School District averaged scores above 900 on a scale of 1,000 over the past three years. Almond Elementary and Santa Rita Elementary, both of which are located within the neighborhood's borders, earned respective API scores of 955 and 941 in 2013.
Another of North Los Altos' major advantages is its proximity to the city's thriving downtown section, which is within walking distance of many neighborhood homeowners. Also known as The Village, downtown Los Altos packs in more than 150 boutique shops and restaurants of all sorts into a six-block area. Our real estate professional says that while downtown Los Altos was formerly fairly sleepy, high-ranking local tech executives have begun sponsoring a range of family-oriented events during the summer months, helping to "transition the neighborhood into a place for 30-something couples and their kids."
Families will also appreciate the Hillview Community Center and Park, which has a preschool, playground, baseball and soccer fields, and a theater. Also nearby are the Los Altos Youth Center, Los Altos History Museum, Los Altos Public Library, and the Altos Apricot Orchard, which has been in business for more than 50 years and hearkens back to Silicon Valley's agricultural roots.
Homes in North Los Altos range from modest ranch-style properties built in the 1950s to newer, gated mansions that have become synonymous with the region's affluence. And the neighborhood's home prices attest to its residents' deep pockets. According to MLS data, February's median sales price for a single-family home was $3.85 million, a year-over-year increase of 24 percent.
Homebuyers hoping to score a piece of this coveted neighborhood should also expect to pay more than asking price to seal a deal. Between February 2014 and February 2015, buyers paid an average of 7.7 percent more the original price to land a single-family home in North Los Altos.
(Photo courtesy of Margie Swain)