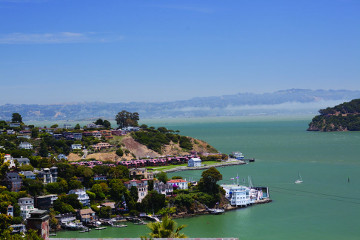 You don't just get one of the Bay Area's most coveted — and expensive — ZIP codes when you buy a home in the tiny waterfront Marin County city of Belvedere; you also get dazzling views, top-tier schools, privacy, and a distinctly small-town flavor.
Incorporated in 1896, Belvedere's early population consisted of both full-time residents and wealthy vacation homeowners. Belvedere is now home to just more than 2,000 people according to the most recent census data, making it the least-populous incorporated city in Marin County.
Located in the southwestern corner of the Tiburon Peninsula, the city lies 1.5 miles northeast of Sausalito across Richardson Bay and is separated from neighboring Tiburon by a lagoon. Residents who live in homes surrounding the landlocked lagoon enjoy a relaxed lifestyle, with swimming and kayaking being two popular pastimes.
Belvedere is also home to The San Francisco Yacht Club, a members-only facility founded in 1869. The club operates youth sailing instructional programs and holds a variety of races throughout the year.
Whether you're out on the water or standing on dry land, Belvedere offers incredible vistas of the bay, Angel Island, the Golden Gate Bridge, and the San Francisco skyline. According to one of Pacific Union's top Marin County real estate professionals, views are often high on the wish lists of Belvedere homebuyers and help to drive prices of top-end properties.
Belvedere's top-rated schools, operated by the Reed Union School District, present another big draw for families shopping for a home in Marin County. In 2013, Reed Elementary scored a 964 on a scale of 1,000 on California's Academic Performance Index (API). Del Mar Middle School notched an API score of 960, while Bel Aire Elementary scored a 940.
The city itself is almost completely residential but is a short drive from downtown Tiburon, where numerous restaurants, shops, and businesses await. Locals who work in San Francisco can also hop the ferry in Tiburon for a relaxing 25-minute ride into the city, undoubtedly one of the most spectacularly scenic commutes in the country.
Although Belvedere is one of the most densely populated communities in Marin County, you might not believe it when driving through the city's narrow, wooded, winding streets, which help give homes a feeling of privacy and seclusion. Single-family homes in the city range from more modest houses built in the middle of the 20th century to expansive, modern waterfront estates.
Thanks to all of its charms, Belvedere has some of the priciest homes in Marin County, the Bay Area, and the United States. Recently, Forbes ranked Belvedere's 94920 ZIP code as the country's 36th most expensive in 2014.
According to MLS data, the median sales price for a single-family home in Belvedere was $3.77 million in October, up nearly 65 percent from a year ago. Buyers paid an average of $1,167 per square foot in October, a year-over-year increase of 27 percent.